Quantum of Solace (2008)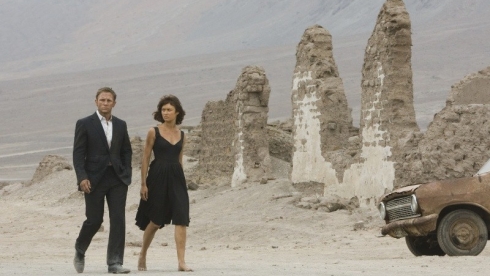 James B(l)ond is back. With a vengeance. Het fel geprezen Casino Royale blies twee jaar geleden de tanende James Bond-franchise nieuw leven in. Quantum of Solace pikt onmiddellijk in waar zijn voorganger eindigde. James Bond, getroffen door het verraad van zijn grote liefde Vesper, is slechts op één ding uit: wraak. En dat levert een bijzonder donkere, enorm fysieke en bikkelharde actiefilm op.
Om de twee films in de Daniel Craig-reeks gestalte te geven, werd een nieuw team samengesteld met Marc Forster (Monster's Ball, Finding Neverland) als regisseur en ondermeer Paul Haggis (Crash, Million Dollar Baby) om het scenario te schrijven. Twee vakmensen die dichter bij de arthouse-film aanleunen en weinig ervaring hebben in het actiegenre. Deze cross-over tussen twee totaal verschillende genres tekent Quantum of Solace.
Het eindproduct is, nog veel meer dan Casino Royale, een a-typische Bondfilm, voor het eerst ook zonder liefdesgeschiedenis. De Russen en de koude oorlog zijn voorgoed verleden tijd. De soms luchtige, naar kitsch neigende scènes uit vroegere Bondfilms zijn in geen velden of wegen meer te bespeuren. In de plaats daarvan krijg je een zeer gestileerde film voorgeschoteld, vol zwart en witte contrasten en gedesatureerde kleuren. Een actiescène volledig gemonteerd op de muziek van de Italiaanse opera Tosca is waarschijnlijk de meest artistieke actiescène van alle Bondfilms. Kortom, een Bondfilm zag er zelden zo mooi uit om naar te kijken.
Maar het gebrek aan ervaring van regisseur Marc Forster is ook de zwakke schakel in deze film. De actie is alomtegenwoordig, maar te weinig gedoseerd. Dankzij het onuitputtelijke budget oogt het allemaal wel bijzonder spectaculair, maar sommige scènes worden zo snel gefilmd dat je meer moeite moet doen om te volgen, dan dat je kans hebt om van de actie te genieten. Maar het grootste gemis van de nieuwe Bond is – naast de teleurstellende titelsong - het gebrek aan een sterke antagonist.
Om weerwerk te bieden aan een acteur als Daniel Craig, die met een blik iemand zou kunnen vermoorden (om nog maar te zwijgen van zijn indrukwekkende spiermassa), moet je uit goed hout zijn gesneden. Slechterik Mathieu Amalric is ongetwijfeld een goede acteur, maar in deze film lijkt hij slechts een lam dat naar de slachtbank wordt geleid. Gelukkig is er nog Judi Dench die zich duidelijk in haar sas voelt als M om het gebrek aan een slechterik op te vangen. De interactie tussen haar en Bond is duizend keer interessanter dan het gevecht tussen Bond en zijn tegenstanders.
Ik kan me gerust inbeelden dat die hard Bond-fans op hun honger zullen blijven zitten. Waar Casino Royale universeel de hemel in werd geprezen, wordt dit volgens mij een omstreden Bondfilm. Niet in het minst om de harde, bijna arrogante en meedogenloze Bond die Daniel Craig hier portretteert. Bond, verblind door wraak, lijkt zichzelf niet. Dat de onsterfelijke woorden 'My name is Bond, James Bond', niet over zijn lippen komen, is in dat opzicht kentekenend.
Hoe dan ook, ondanks enkele tekortomingen, vond ik het een bijzonder entertainende film. En ik blijf resoluut fan van Daniel Craig als de nieuwe Bond, die wederom bewijst dat hij perfect in staat is de volledige film in zijn eentje te dragen. De James Bond-franchise werd met hem meteen een stuk interessanter.
Lezers score
Reacties