Slumdog Millionaire (2008)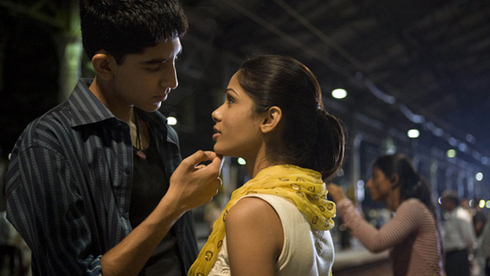 De film vertelt het verhaal van Jamal Malik, een Indische jongen uit de sloppenwijken, die op het punt staat om 20 miljoen roepies te winnen met het wereldberoemde programma "Who wants to be a Millionaire?". Dat succes is hem echter niet gegund. De presentator van de quiz verdenkt hem van valsspelen en levert hem nog de avond voor de finale uit aan de politie. Ook daar regeert het ongeloof. Hoe kan een 18-jarige jongen uit de sloppenwijken doorstoten naar de finale zonder te hebben valsgespeeld?
Life is the answer. Jamal legt zijn ondervragers uit hoe hij alle antwoorden simpelweg weet. Zijn harde leven wordt verteld in flashbacks, aan de hand van de quizvragen die hem zijn gesteld. De film toont hoe hij opgroeide als wees in de sloppenwijken, hoe hij zijn verloren en herwonnen liefde Latika leerde kennen, hoe hij samen met zijn broer Salim een lucratief handeltje van gids voor toeristen en van verkoper van gestolen schoenen opzette en hoe hij samen met diezelfde broer komaf maakt met goed georganiseerde straatbendes. Elk hoofdstuk van zijn leven levert hem een antwoord op voor de quiz.
Hoewel thema's als armoede, kindermishandeling, verminking en moord worden aangesneden is Slumdog Millionaire toch een feelgood-movie. Het is een klassiek Hollywood melodrama - in een alternatieve Bollywood setting - waarin de liefde overwint. Dankzij de originele vertelwijze slaagt regisseur Danny Boyle erin om van dit verhaal geen kleffe lovestory te maken. Maar ook de dynamiek draagt hiertoe z'n steentje bij. Van de maker van Trainspotting verwachten we niets anders: de openingsscène van deze film is ongetwijfeld nog niet uit jouw geheugen gewist. De krachtige montage van de beelden en de muziek die deze montage alleen maar opdrijft, neemt Boyle over in zijn nieuwste verwezenlijking. Zo wordt M.I.A's Paper Planes slim gemonteerd over de scène waarin de broertjes Malik een handeltje opzetten op de trein die hen naar Mumbay zal brengen. "All I wanna do is (BANG BANG BANG BANG!), and (KKKAAAA CHING!), and take your money."
De promotie rond deze film laat al wel eens het woord Bollywood vallen, maar laat je hier vooral niet door afschrikken. Gezangen en danspartijen à la The Guru komen niet aan de orde tot aan de aftiteling. De Bollywood hatende aftitelfreaks en zittenblijvers zijn nu al gewaarschuwd: ren de zaal uit! Maar ondanks de muzikale epiloog is deze film zeker een cinemabezoekje waard.
Lezers score
Reacties