The Aviator (2004)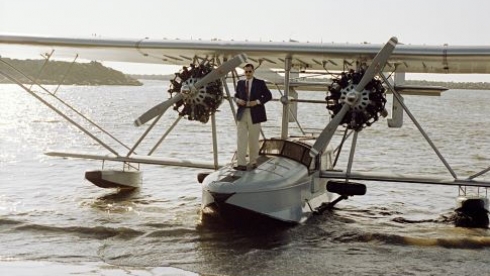 Het gebeurt niet vaak dat Gert en ik een ver uiteenlopende mening hebben als het op een film aankomt. Ja kan dat ook wel een beetje zien aan onze top 2004. Zo waren we het er ook over eens dat Taxi Driver, één van Martin Scorseses klassiekers, een uitermate saaie film is. Maar dat weerhoudt de echte filmliefhebbers zoals ons er niet van toch naar zijn nieuwste prent te gaan kijken, The Aviator. Je voelde het misschien al aankomen, inderdaad, onze mening loopt deze keer wel uiteen. Speciaal voor jullie, hebben we dan ook besloten om elk ons ding te zeggen over deze film. Hij is trouwens net genomineerd voor maar liefst 11 Oscars, veruit een favoriet dus.
The Aviator is een biografische film over de jonge jaren van Howard Hughes (Leonardo Di Caprio). Een ambitieuze man die deelnam in zowat elke industrie. Zodra hij ergens in geloofde en een toekomst zag in een nieuwe technologie pompte hij er miljoenen dollars in. De film begint tijdens de opnames van de klassieker Hell's Angels. Grootste en duurste epos ooit gerealiseerd. We krijgen te zien hoe Hughes tijdens deze opnames als jonge twintiger een droom ontwikkelt voor het bouwen van het snelste vliegtuig ooit. Na de release van Hell's Angels in de film keert het focus punt hoofdzakelijk naar Hughes' activiteiten binnen de luchtvaart (TWA) en zijn concurentiestrijd met Pan Am. Verder krijgen we ook een glimps van zijn exentrieke levensstijl binnen en buiten Hollywood.
Wat Gert denkt
The Aviator is een film waar veel goede elementen in zitten. De vertolkingen van Leonardo DiCaprio en Cate Blanchett bijvoorbeeld. Allebei zonder twijfel Oscarmateriaal. De muziek (hier in Vlaanderen opgenomen nota bene) is eersteklas en de beeldkwaliteit is meestal bijzonder hoog. Maar dit alles neemt niet weg dat de film als geheel me niet kon boeien. Misschien vooral omdat ik absoluut geen sympathie kon opbrengen voor Howard Hughes zelf, hoe briljant die ook vertolkt werd door Di Caprio. Een genie met een visie en een ziekte kan meestal wel op mijn medeleven rekenen (denk maar aan Russel Crowe in A Beautiful Mind), maar Hughes kwam niet verder dan impulsief en arrogant. Maar er scheelde wel meer aan de film. Iets meer diepgang in de relaties tussen Hughes, zijn vrouwen en de andere personages had bijvoorbeeld welkom geweest. Di Caprio en Blanchett stonden er, maar de dialogen die de rest van de cast waren toebedeeld, waren nu niet bepaald hoogvliegend. Laat staan boeiend of meeslepend.
Eindconclusie: de film steekt boven de middelmaat uit, maar daarmee is dan ook alles gezegd. Lang en saai zijn twee adjectieven die geen enkele liefhebber in de mond zou mogen nemen wanneer het een film van Martin Scorsese betreft, maar hierbij heb ik ze toch lekker vermeld!
Wat Stijn denkt
Ik heb nog maar enkele Scorsese films gezien en allen zijn ze me wat tegengevallen. Taxi Dvriver en Bringing out the Dead vond ik ronduit saai en Gangs of New York had gerust wat ingekort mogen worden. Je kan dus wel aannemen dat ik een beetje schrik had voor een combinatie van bovenstaande. Was ik even teleurgesteld, wat een klasse film! Alles zat echt goed. Leonardo Di Caprio lijkt eindelijk volwassen te worden. Hij had wel al eens een goeie rol neergezet, maar ik had het tot nu nooit echt begrepen op deze jonge man. Maar de manier waarop hij de ziekte, de ambitie en de arrogantie van Howard Hughes brengt is memorabel. Cate Blanchett brengt wat mij betreft de rol van haar leven, dit was zo een van die prestaties waarbij je vergeet naar welke acteur je zit te kijken.
Het scenario doet volledig zijn werk. Gert verwijt het van weinig diepgang en dialoog rondom Hughes maar daar draait het hem net om volgens mij. Hughes was exentriek en ambitieus, en door hetgeen dat rondom hem gebeurt te minimaliseren wordt de aandacht volledig op hem gezet. Dit benadrukt zijn 'grootsheid' en ambitie, evenals de ziekte waarmee hij te kampen krijgt. Om af te sluiten wou ik toch nog heel even benadrukken dat de soundtrack immens goed de sfeer en de spanning van de film opvolgt.
Zo zie je nog maar eens hoe subjectief naar een film kijken is. The Aviator is vanaf morgen officieel in de zalen, ga gerust zelf een oordeel vellen.
Lezers score
Reacties