The Life Aquatic with Steve Zissou (2004)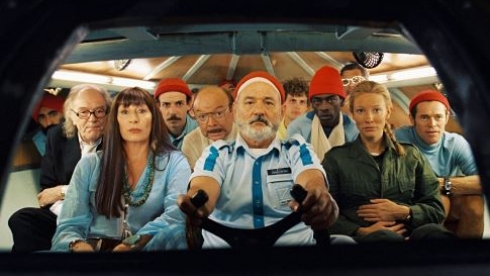 In 2001 profileerde Wes Anderson zich als eigenzinnig filmmaker met het fel bekroonde The Royal Tenenbaums. Een bizarre film over een dysfunctionele familie die het midden hield tussen komedie en drama en gedragen werd door een hele rits steracteurs. Drie jaar lang was het wachten op zijn volgende film The Life Aquatic with Steve Zissou, die net als The Royal Tenenbaums duidelijk een Wes Anderson stempel krijgt: een beetje bizar - in dit geval zelfs op sommige momenten compleet absurd - en niet meteen in één vakje te categoriseren.
Bill Murray is Steve Zissou: oceanograaf, documentairemaker en een levende parodie op Jaques Cousteau. Zijn missie: het opsporen en doden van een misschien onbestaande Jaguarhaai, die Steve's partner tijdens een vorige missie opgegeten heeft. Wetenschappelijk doel van de missie: wraak. Team Zissou: een bizar hoopje ongeregeld. Zo wordt Steve Zissou vergezeld door een jonge piloot (Owen Wilson), die beweerd Steve's zoon te zijn, door een opdringerige en betweterige journaliste (Cate Blanchett), die een artikel over de missie samenstelt en door zijn dominante vrouw (Anjelica Huston), die met de jaren meer en meer vervreemd is van haar man. Jeff Goldblum neemt de rol van Steve's grote rivaal op zich.
Talent te over dus, en je verwacht dan ook dat zo'n film vuurwerk gaat geven. Over het algemeen is de film dan ook zeer fris en onderhoudend. Spijtig genoeg is dit niet steeds het geval. Soms heb je de indruk dat de film grappiger bedoeld is dan hij in feite is, of weet je gewoon niet of een scène nu eigenlijk grappig of dramatisch bedoeld is. Waarschijnlijk was dat ook wel de bedoeling van Wes Anderson, maar als kijker weet je soms niet goed wat met de film aan te vangen.
De humor komt meestal dan ook niet van het verhaal of de dialogen, maar wel van alles wat daarnaast gebeurt. De production en set design, de costume design en de art decoration zijn tot in de puntjes verzorgd. Je lacht je gewoon te pletter met alle vreemde outfits waarin team Zissou het grote scherm betreedt en met de bizarre onderwaterwereld die de makers van de film gecreëerd hebben. Zissou's schip, de Belafonte, is een waar cinematografisch pareltje. En de lichtvoetige muziek brengt je direct in de juiste sfeer om de film te bekijken (met een glansrol voor de Braziliaanse matroos die een hele film lang David Bowie in het Portugees zingt). Alleen voor zijn artistieke kwaliteiten is deze film al meer dan het bekijken waard.
Tot slot nog dit: niet dat ik Morgan Freeman zijn Oscar als beste acteur in een bijrol niet gun, maar had het van mij afgehangen was dit beeldje toch naar de Orka gegaan, die tijdens een interview tussen Bill Murray en Cate Blanchett op de achtegrond alle aandacht naar zich trekt!
Lezers score
Reacties