2046 (2004)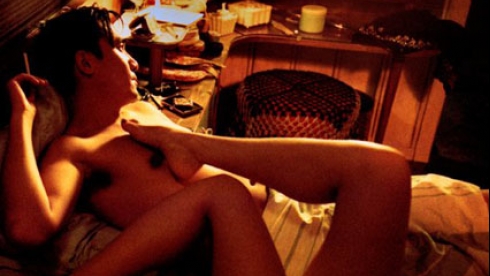 Het jaar is nog niet om en alweer stormt een Aziatische film de westerse cinemazalen in. Dit keer gaat het om de langverwachte nieuwe film van Chinees filmvirtuoos Wong Kar Wai (Happy Together, In the mood for love). 5 jaar had Wong Kar Wai nodig om deze film af te werken. Het scenario werd talloze keren volledig herschreven en de productie had te lijden onder budgetaire problemen en het sars-virus. Maar Wong Kar Wai zette door en na 5 jaar wachten wordt het geduld van de liefhebbers van de betere Aziatische film nu beloond. Enkele weken geleden werd de film op de European Film Awards (de Europese Oscars) al beloond met de Screen International Award als beste niet-Europese film.
In 2046 brengt Wong Kar Wai het verhaal van een Chinese journalist (Tony Leung). Begin jaren '60 ontmoet hij een getrouwde vrouw (Maggie Cheung), die voor hem zijn ideaalbeeld wordt voor ware liefde en de maatstaf waaraan hij alle andere vrouwen afmeet. Enkele jaren later pikken we de draad van de journalist weer op wanneer hij in een hotelletje zijn science-fiction boek 2046 aan het schrijven is. Hij begint een passionele relatie met de mooie prostituee in kamer 2046 (Zhang Ziyi) en hij maakt nader kennis met de oudste dochter van de hoteleigenaar, maar zijn vroegere romances en vooral die oorspronkelijke liefde met Maggie Cheung blijven door zijn geheugen spoken.
Op die manier passeren een hele serie vrouwen de revue, die elk een ander beeld van de vrouw belichamen: de hoer, de vriendin, de ware liefde,.. Wong Kar Wai schildert een portret van liefde, eenzaamheid, verlangen in al zijn aspecten en de impact die een verloren relatie kan hebben op de rest van een liefdesleven. Dit geeft de film ook een fragmentarische, complexe structuur: verleden en heden, realiteit, fictie, herinnering en droom wisselen elkaar voortdurend af. Elk deel apart is zeer emotioneel aangrijpend en intiem, maar in het geheel mist de film een duidelijke focus, een dramatisch doel in welke richting de film moet evolueren. Dit maakt dat zeker het eerste uur zeer verwarrend overkomt.
Maar 2046 is meer dan een serie liefdesgeschiedenissen an sich: de film roept een heleboel filosofische vragen op over liefde en relaties. Vragen die grotendeels onbeantwoord blijven (al dwingt de eerlijkheid me hier toe te geven dat de kans bestaat dat de antwoorden hierop wel in de film gegeven zijn, maar ik ze gewoon gemist heb). Zoals gezegd is 2046 geen eenvoudige film en net zoals het betere werk van Lynch of Antonioni moet je hem misschien een tweede keer zien om hem beter te kunnen doorgronden. Maar 2046 is geen film die je volledig moet snappen om hem te waarderen. Het is een bijzonder stijlvolle, volwassen film die op alle momenten klasse uitstraalt. Vanaf het eerste beeld is het duidelijk dat men te maken heeft met een regisseur met veel talent en ervaring. De muziek is simpelweg overweldigend mooi en de (overwegend vrouwelijke) cast is werkelijk de crème-de-la-crème van de Chinese cinema. Li Gong, Zhang Ziyi, Maggie Cheung, Faye Wong, Carina Lau,... Stuk voor stuk zijn het mooie, elegante vrouwen die verheerlijkt, zelfs gefetisjeerd worden door Wong Kar Wai (door een bijna overdreven aandacht voor voeten, handen,...). Een erotische spanning - wederom op zeer stijlvolle manier naar voren gebracht - is dan ook vaak niet ver afwezig.
De titel 2046 tenslotte heeft ook een historische connotatie. In de film is het cijfer (naast het nummer van een hotelkamer) ook de titel van het sciencefiction boek dat Tony Leung schrijft. Het is het jaar waar tijdsreizigers heen kunnen gaan om verloren herinneringen op te halen, het jaar waar de tijd stilstaat. In 1997 werd Hong Kong immers door Groot-Brittannië teruggegeven aan China. Deze laatste maakte de belofte om gedurende een periode van 50 jaar geen veranderingen door te voeren. Tot 2046 dus. Wat 2047 daarentegen brengt, blijft een groot vraagteken.
Lezers score
Reacties