Anima Film Festival 2009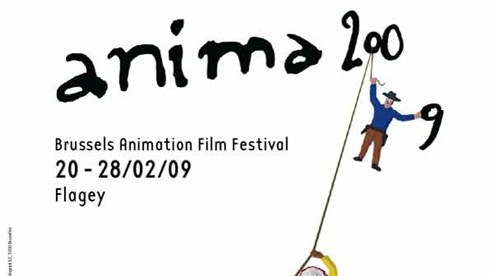 Binnenkort vindt de 28ste editie plaats van het Anima Filmfestival in Brussel. Van 20 tot en met 28 februari kunnen alle liefhebbers van de animatiefilm terecht in het Flagey in Brussel voor een week van filmvertoningen en workshops.
Het festival opent officieel met de avant-première van Ponyo on the Cliff by the Sea, de nieuwe langspeelfilm van Hayao Miyazaki (Spirited Away, Howl's Moving Castle).
In totaal zullen er ongeveer 200 langspeel- en kortfilms, reclame- en videoclips vertoond worden, verdeeld onder verschillende luiken. Alles samen krijgen we een mooi overzicht van de hedendaagse animatie. Het volledige programma vind je terug op de website van Anima 2009.
Aanbod
Van recente films zijn er Wall•E, Madagascar 2 en het veelbesproken Vals Im Bashir (Waltz with Bashir). Ook klassiekers als Pinocchio en Spirited Away worden vertoond. Verder zijn Wallace en Gromit van de partij met een nieuwe avontuur en kan je de geanimeerde versie van The Lord of the Rings bekijken.
Bij de kortfilms wordt er speciale aandacht geschonken aan het Belgische aanbod met de serie Dit is Belgisch.
Strip
Dit jaar staat Anima ook in het teken van de wisselwerking tussen strips en animatie. In het kader van Brussel Stripstad staan enkele avant-premières, performances met tekenaars en de tentoonstelling "Van hokje naar scherm" op het programma.
Eveneens wordt er een "Cosplay"-wedstrijd georganiseerd, waarbij de deelnemers zich als hun favoriete stripfiguur moeten verkleden. De meest inspirerende lookalikes maken kans op een van de vele prijzen.
Workshops
Verder zijn er ontmoetingen en workshops met mensen uit de industrie. Zo kan je aan tafel zitten met Mike Reiss, scenarist voor The Simpsons, die het zal hebben over censuur. Ook is een masterclass met Kyle Balda (ex-Pixar), die les komt geven over animatietechnieken.
Reacties