Revolutionary Road (2008)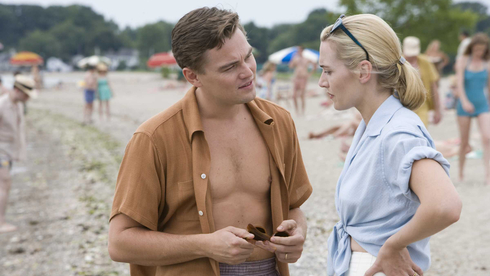 Wanneer Frank en April elkaar ontmoeten, ligt de wereld aan hun voeten. Hun leven zal anders zijn, beter en vol avontuur. Tien jaar later wonen ze in een buitenwijk waar ze steeds burgerlijker en steeds ongelukkiger worden. Frank haat zijn baan en April haat haar leven. Wanneer die haat lijkt over te slaan op hun huwelijk, besluiten ze in een uiterste wanhoopspoging naar Parijs te verhuizen om hun jeugddromen terug te vinden. Hun relatie herleeft en de 'hopeloze leegte' die hun leven geworden was, krijgt terug kleur. Wanneer hun droom echter strandt op onbegrip en achterdocht, kan niets ooit nog hetzelfde worden.
Sam Mendes' nieuwste kan nog best omschreven worden als een verhaal over zij die worden gegijzeld door hun eigen leven. In het na-oorlogse Amerika waren veiligheid en zekerheid termen die belangrijker waren dan geluk of zelfs liefde. Mensen klampten zich hopeloos en onzeker vast aan een bestaan zonder uitdagingen in een leven dat geen uitgesproken dieptes kende, maar ook geen echt geluk. Wanneer je echter meer verlangt, is de gedachte aan minder ondraaglijk.
Wie Titanic II wil zien, kan zich beter een kom popcorn maken en thuis gezellig naar de eerste kijken. Ga je echter om twee steengoede acteurs aan het werk te zien in een beklijvend en imponerend verhaal? Dan heb je de juiste keuze gemaakt. Kate en Leo zijn volwassen geworden: dat toont zich niet alleen in rimpeltjes rond hun ogen of hun filmkeuze, maar ook in hun spel. Geen van beiden schuwt echte emoties, maar toch is er geen greintje overacting te zien. Eat that, Tom Cruise!
Hoe zou jij reageren in uiterste wanhoop? Hoe zou jij je geliefde behandelen wanneer je hem of haar verder en verder voelt wegglippen? Emoties en gevoelens zijn zo goed vertaald dat je soms een onbehaaglijke gevoel lijkt te hebben een voyeur te zijn die binnekijkt bij een gezin uit de jaren '50. Niet alleen het samenspel van Winslet en DiCaprio zorgt daarvoor, maar ook de strakke regie van Mendes, die ervoor koos om vooral met lichte kleuren en vaste shots te werken.
Niet iedereen zal Revolutionary Road echter smaken. Het is zeker geen feelgoodmovie en bovendien denk ik dat het van je persoonlijkheid afhangt of je de film echt volledig begrijpt. Dat het echter een verhaal is waar achteraf stevig over kan gediscussieerd worden, staat vast.
Lezers score
Reacties