Finding Neverland (2004)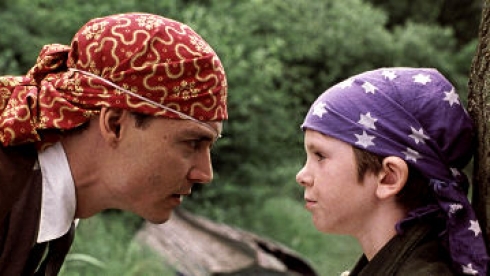 Het verhaal van Peter Pan is een klassieker en is dan ook al ettelijke keren verfilmd of tot een toneelstuk herwerkt. Denk bijvoorbeeld maar aan Disney's tekenfilm Peter Pan (1953), Steven Spielberg's Hook (1991) of de peperdure avonturenfilm Peter Pan die vorig jaar in de zalen kwam. Nog nooit echter gebeurde dit op zo'n magische en originele manier als de manier waarop regisseur Mark Forster (Monster's Ball) het populaire kinderverhaal benadert in Finding Neverland. In plaats van louter opnieuw het beroemde toneelstuk van Sir James M. Barrie opnieuw te verfilmen neemt Forster het toneelstuk Finding Neverland van Allan Knee als vertrekpunt, waarin Knee J.M.Barrie zelf als hoofdpersoon opvoert en de totstandkoming van Peter Pan als onderwerp neemt. Ofwel: het (gedeeltelijk waargebeurde) verhaal van een man die nooit volwassen wou worden en een personage creëert die dat ook nooit doet.
Londen, 1903. J.M.Barrie (Johnny Depp) is een beroemde, zij het niet altijd even succesvolle toneelschrijver. Zijn laatste toneelstuk was een grote flop en zijn inspiratie voor een nieuw toneelstuk staat op een laag punt. Dit alles verandert wanneer hij in een park kennis maakt met de mooie Sylvia Llewelyn Davies (Kate Winslet) en haar vier kinderen. Sylvia's man Arthur is net gestorven en haar vier jongens lijden zwaar onder het verlies van hun vader. Een verlies dat hen dingt om veel sneller dan normaal volwassen te worden. Tussen Barrie en de jongens ontstaat een mooie wisselwerking wanneer deze zich het lot van de onfortuinlijke familie ter harte neemt. Barrie leert hen opnieuw geloven in hun dromen en verbeelding. Op hun beurt inspireren de kinderen hem om zijn kinderlijke verbeelding, die gevangen zat in het lichaam van een volwassen man, terug naar boven te halen en zo het beste toneelstuk te creëren dat hij ooit zou schrijven. Tussen Barrie en Sylvia ontstaat er een oprechte en liefdevolle - zij het platonische - relatie, die Barrie uiteindelijk zijn huwelijk zal kosten.
De vertolking van Johnny Depp bepaalt in sterke mate de slagkracht van de film. De ingetogen, door en door goede Barrie is een totaal ander personage dan alle andere films die Depp tot nu toe al gespeeld heeft, maar net zoals we van hem gewend zijn is zijn vertolking totaal geloofwaardig en verleent hij de film de nodige 'chemistry'. Ondertussen is het meer dan duidelijk dat weinig acteurs zo'n breed gamma van rollen aankunnen als Johnny Depp. In Amerika is er al de nodige Oscar buzz ontstaan rond zijn vertolking in deze film. Daar kan ik alleen maar op zeggen: terecht! Ook op Kate Winslet, die moeiteloos de getormenteerde vrouw neerzet, valt geen kritiek te leveren. Met het recente Eternal Sunshine of the Spotless Mind nog vers in ons geheugen drukt ze haar stempel op het filmjaar 2004. Dé revelatie van de film is echter Freddie Highmore, die een fantastische prestatie neerzet als de jonge Peter Davies, op wie Barrie zijn titelpersonage baseert. Johnny Depp was zo onder de indruk van zijn kunnen, dat hij regisseur Tim Burton overhaalde om hem de rol van Charlie te geven in het opkomende Charlie and the Chocolate Factory.
Finding Neverland is geen gedurfde of kritische bio-pic over J.M.Barrie. Regisseur Forster speelt liever op veilig. Een groot deel van de gebeurtenissen in de film zijn waargebeurd. Het feit dat Sylvia's echtgenoot eigenlijk nog in leven was toen Barrie Peter Pan schreef wordt echter gemakkelijkshalve genegeerd. De huwelijksstrubbelingen tussen Barrie en zijn vrouw worden tot een minimum herleid. En over het feit dat Barrie bijna zijn hele leven achtervolgd werd door beschuldigingen van pedofilie met de jongens zwijgt de film zo goed als helemaal. Maar een politiek correcte, kritische film maken was dan ook helemaal niet de bedoeling van Forster. Wat hij wel deed was een magisch-realistische film maken, een sprookjeswereld weergeven zoals een kind hem zou zien en daardoor een fantastische en emotievolle ode aan de kracht van dromen en verbeelding en aan artistieke creatie op het scherm brengen. Een film waar drama nooit veraf is, maar waarna je toch met een glimlach op je lippen en een warm gevoel in je hart de cinemazaal verlaat. In die opdracht is hij met verve gelaagd.
De film komt hier in België pas tegen eind december in de zalen (behalve voor diegenen die net als ik het geluk hadden om hem in sneak preview mee te pikken). Wees echter gerust: indien u op zoek bent naar de ideale film om het jaar mee af te sluiten, uw zoektocht is over! Finding Neverland is wat mij betreft dé film van 2004. Sit back, relax en laat deze prachtige film vooral niet aan u voorbijgaan.
Lezers score
Reacties