Casino Royale (2006)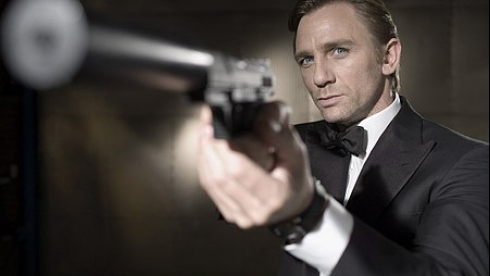 Ik zou mezelf geen Bond-fan noemen, maar er zitten wel een paar leuke films tussen. Bond is ook een zeer dankbaar personage die aan de basis ligt van heel wat jongensdromen. Dat ik ze allemaal gezien heb kan ik echter niet beweren en dat degene die ik wel gezien heb nog goed in het geheugen zitten evenmin. Ik herinner mij wel nog dat ik Pierce Brosnan als Bond maar niets vond en dat Sean Connery mijn favoriet is, maar dat kan ook gewoon aan Sean Connery zelf liggen. Dat ik niet benieuwd was naar de nieuwe Bond - Casino Royale - zou een leugen zijn. Met alle positieve buzz rond de film wou ik hem zeker zelf eens bekijken. Verloren geld zo blijkt.
Casino Royale is eigenlijk een herfilming van een oudere niet officiële Bond-film. James (Daniel Craig) is net gepromoveerd tot 00-agent, zijn eerste missie is het gevangen nemen van de terrorist Mollaka (Sebastien Foucan), helaas loopt niet alles volgens plan. Hierna gaat op onderzoek uit los van MI6. Alles leidt uiteindelijk tot Le Chiffre (Mads Mikkelsen), een man gekend voor het bewaren en witwassen van geld voor een aantal terroristische beweging. Uiteindelijk krijgt James Bond de opdracht om het tegen Le Chiffre op te nemen tijdens een spelletje poker en hem hopelijk op die manier in de handen van de Britse overheid duwen.
Casino Royale begint met een verse start, zoals ze dat met Batman Begins gedaan hebben. Alle aandacht gaat uit naar Craig en de metamorfose van zijn personage tot we op het einde de Bond krijgen te zien die we kennen. Het spijtige is dat het omkaderend verhaal waarin Bond 007 wordt helemaal verwaterd in de karakterontwikkeling.
Deze transformatie van Bond tot 007 is wel leuk om te bekijken. We zien James Bond een verschuiving maken van een arrogante agent die alle regels aan zijn laars lapt tot een meer verfijnde koele moordenaar. De makers hebben echt hun best gedaan om af te stappen van het bestaande beeld van Bond en alle clichés te doorbreken. Dit kan natuurlijk gemakkelijk doordat je van nul begint en Bond nog niet Bond is. Naar het einde toe komen steeds meer typische trekjes naar boven, de vervolmaking van het proces tot 007. Voor het eerst wordt Bond ook als lustobject gebruikt, zo is het niet de Bond-girl die het water uit komt maar Bond zelf.
Jammer genoeg kon het omkaderend verhaal mij maar weinig boeien. Ik had best nog goede hoop tijdens de openinigsscéne. Heel droog en strak goede dialoog en mooie fotografie. De eerste helft van de film was alleen maar een teleurstelling. Twee actiesequenties kregen we te zien, meer niet. Een actiefilm hoeft niet veel diepgang te hebben, maar twee sequenties waar we Bond iemand anders zien opjagen is bijzonder weinig. De eerste scéne was best knap met de technieken van 'Parkour', de tweede was overdreven. ze zijn gelukkig weg gebleven van onnodige ontploffingen.
De rest van het verhaal lijkt ook maar uit wat fragmenten te bestaan losjes aan mekaar gepraat. Het zit simpel in mekaar, je hoeft geen academicus te zijn om te snappen wat het verband is tussen al die 'kleine' boefjes waar Bond achteraan gaat. Toch bleef ik het gevoel hebben dat het een vrij doeloos verhaal was. En dan heb je het einde. Bond en zijn Bond-girl - Eva Green. Je weet dat er nog wat volgt, dat het lang niet gedaan en toch wordt het enorm uitgesponnen met heel wat romantisch gedoe. Akkoord, het is belangrijk voor de vorming van zijn karakter, maar ze hadden het best wat interessanter kunnen maken. Saaie boel dus.
Daniel Craig heeft me wel overtuigd van zijn talent als Bond. Ik ben dan ook benieuwd om hem in de toekomst terug te zien als Bond - uiteraard is er al een vervolg in de maak. Het zou me zelfs niet storen om het te zien in een gelijkaardige rol, maar hopelijk in een verhaal met wat meer inhoud. Eva Green als Bond-girl is ook best te pruimen. Ook haar personage wijkt af van de typische Bond-girl, zo komt glamour haar niet als natuurlijk en is ze heel wat cynischer. Mads Mikkelsen als Le Chiffre vond ik maar niets, hij was net niet vervelend.
Casino Royale zal het ongetwijfeld goed doen bij een bepaald publiek, mij kon het alleszins maar weinig boeien. Het leek mij maar een doelloos gedoe. Een sterke Daniel Craig, de aangename Eva Green en heel wat mooie beelden maakten veel goed. Niet te vergeten enkele grappig momenten: "Now the whole world will know that you died scratching my balls!"
Lezers score
Reacties