L'Instinct de Mort (2008)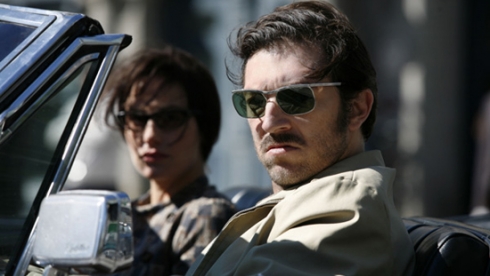 Hoe lok je mensen in tijden van Loft naar een bioscoopzaal waarin ze een Franse gangsterfilm draaien? Geen idee, maar L'Instinct de Mort zorgt er wel voor dat dat publiek binnenkort opnieuw een kaartje koopt voor deel twee van deze knappe biopic.
Als je een film ophemelt, wind je daar best geen doekjes om. Het eerste deel van dit tweeluik heeft alle eigenschappen van een uitstekende film die toch nooit een kaskraker zal worden: een staalharde motherfucker van een protagonist, een gitzwart levensverhaal, de perfecte setting in het coole Frankrijk van de jaren '60 en '70 en een spanningsboog die perfect balanceert tussen opbouw en brutale actie.
Regisseur Jean-François Richet baseert zich voor zijn vijfde langspeelfilm op de autobiografische roman van Jacques Mesrine. Achter de tralies heeft deze topgangster blijkbaar tijd genoeg om zijn leven neer te pennen, want Richet weet maar liefst vier volle uren film uit het boek te puren. Mesrine is dan ook geen klein bier: zijn leven was een aaneenschakeling van moorden, ontvoeringen, bankovervallen en wapenhandel. In zijn boek durft Mesrine zijn verleden net wat spectaculairder en spannender te maken, maar dat neemt niet weg dat hij al snel bekend stond als publieksvijand nummer 1. Als dat geen perfecte uitvalsbasis voor een film is?
In het eerste deel zien we hoe Vincent Cassel op verbluffende wijze gestalte geeft aan een soldaat die terugkeert uit de broeierige Algerijnse onafhankelijkheidsoorlog. Terug in Frankrijk loopt hij echter hopeloos verloren. Hierin ligt meteen ook het grote verschil met klassieke gangsterepossen als The Godfather en Once Upon a Time in America. We zien Mesrine nooit als kinderboefje door de straten van Parijs trippelen. Wel is hij een gefrustreerde expat die met zichzelf geen blijf weet in zijn oude thuis en zijn machtsvertoon rustig verder zet. Net zoals Tony Montana uit de Scarface van 1983 of Frank Lucas uit American Gangster voelt hij zich de koning te rijk tussen het geld, de drugs en de vrouwen. Maar zoals ieder Rise and Fall-verhaal blijft het sprookje niet duren. In L'Instinct de Mort is er immers geen tijd voor melancholie of romantiek.
Naast het krachtige verhaal en de verbluffende acteerprestatie van Cassel, zit de grote kracht van de prent hem in de vertelstructuur. Het lijkt of de puzzelstukjes van het verhaal lukraak in de doos zijn gelegd, want de regisseur maakt constant sprongen in de tijd. Hij laat de kijker proeven van verleden, heden en toekomst en wekt zo de interesse van het publiek. Het is volledig de verdienste van de regisseur dat je als kijker toch nooit het noorden kwijt geraakt en alleen maar nieuwsgieriger wordt.
Het totale gebrek aan chronologie mag dan wel een meerwaarde zijn, het maakt wel dat je deel twee nooit apart zal kunnen bekijken. Eigenlijk is het zelfs belachelijk dat er bandbreedte wordt verspild aan een recensie van een halve film. Rep je dus naar de cinema en zorg ervoor dat je nog snel één van de betere films van 2008 meepikt. En mocht dat je niet overtuigen: ik heb geen seconde aan Louis de Funès of de idiote Taxitrilogie moeten denken.
Mesrine: L'Ennemi Public n° 1 verschijnt op 19 november in de Belgische zalen.
Lezers score
Reacties