Zatôichi (2003)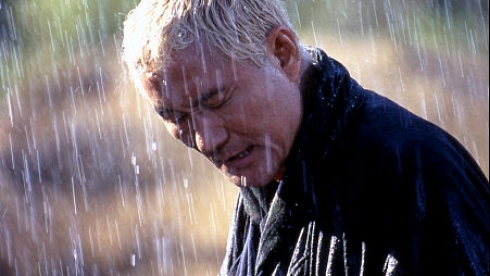 Ik ben verliefd geworden. Ik heb een liefde ontwikkeld voor de Aziatische film, of toch de Chinese en Japanse film. Ik heb wel nog wat moeite met het onderschied te maken. Ik was al zo goed als verkocht na het zien van Hero, een absolute topper. 2046 heeft de doorslag geven. Ik was verkocht voor de mooie, exotische kleuren en de heelrijke tongval. Het was dan ook maar een kleine moeite om Zatôichi uit de winkelrekken te nemen en dezelfde avond in de DVD speler te steken.
De blinde zwerver Zatôichi (Takeshi Kitano) komt aan de kost met het geven van massages en gokken. Maar achter deze onschuldige facade schuilt een echte samurai van de snelste en meest precieze soort. Hij komt terecht in een afgelegen bergstadje dat beheerst wordt door rivaliserende bendes. Na een heftig avondje gokken ontmoet Zatôichi twee bloedmooie geishas die uit zijn op wraak voor de dood van hun ouders. Samen met nog een reeks eigenaardige personages zet Zatôchi de jacht in op de grote bendeleider Ginzo (Ittoku Kishibe), vooraleer Hattori (Tadanobu Asano), Ginzo's bodyguard, tot bij hem raakt.
In eerste instantie was ik een beetje teleurgesteld, waar waren al de levendige kleuren uit Hero naartoe? De film voelde een beetje flets, grijs en somber aan. Maar dit was ik al gauw vergeten na enkele minuten. De gevoelswereld lijkt volledig overeen te komen met dat van een blinde, hoewel je soms de indruk krijgt dat Zatôichi meer ziet dan je zou denken.
Zatôchi is een beetje een bijzondere film, er zit heel wat in het verhaal verwerkt. Het gaat weliswaar om een vrij klassiek misdaad-drama verhaal, maar er zit ook heel wat humor en absurditeit in verweven. Een jonge man die zich vordoet als vrouw, een lichtjes geschifte man en nog een jongen man die als een gek toertjes loopt rond het huis van de buren. Dit maakt de film heel licht en ongelooflijk aangenaam om naar te kijken zonder aan authenticiteit in te boete.
Het verhaal blijft pure misdaad en actie. Zatôchi is en blijft een mysterieus persoon doorheen het heel verhaal. Het pas op het einde dat we te zien krijgen wie hij is. In het teken van de humor wordt deze ontdekking dan wel volledig ontkracht door een vrij absurde tegenactie. De gevechtsscènes zijn ook alles wat je verwacht van Japanse actie: het geluid van de samurai zwaard, één man tegen een veelvoud en veel bloed. Heerlijk.
Ook de begeleidende ritmes en deuntjes zijn een groot pluspunt. Zo zien we bijvoorbeeld in een bepaalde scene boeren aan het werk in hun veld. Ze zijn vollop bezig met harken en het aanstampen van grond. Het geluid van deze activiteiten is dan zodanig versterkt dat ze zowaar muziek lijken te maken. Dit wordt meer dan eens toegepast en hoewel het heel erg Stomp aanvoelt vind ik het heel knap gedaan.
Zatôichi is een heerlijk combinatie van misdaad, acite en humor. Ik zou hem onmiddellijk aanraden aan iedereen, of op zijn minst zij die geen schrik hebben van een film in een andere taal dan het Engels of het Nederlands. Spannend en ontspannend.
Lezers score
Reacties