Peter Pan (2003)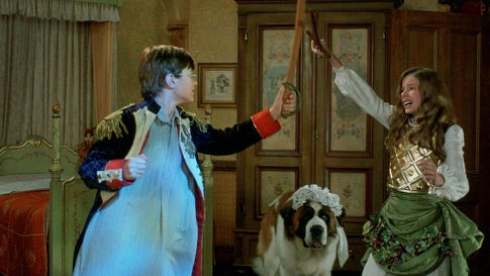 Sinds J.M.Barrie zijn beroemde toneelstuk schreef, is Peter Pan al talrijke keren verfilmd. De eerste versie dateert al van 1924; de laatste nieuwe vrije adaptie is het magnifieke Finding Neverland, over J.M.Barrie zelf op het moment dat hij zijn toneelstuk schrijft. De meeste Peter Pan-verfilmingen kwamen echter rechtstreeks op TV of video uit. Dat maakt dat - Steven Spielberg's vrije interpretatie Hook (1991) niet meegerekend - Peter Pan van P.J.Hogan in 2003 raar genoeg de eerste live-action Peter Pan-geluidsfilm was die in de bioscoopzalen terecht kwam.
Het verhaal van de film ligt in dezelfde lijn als de andere films die van hetzelfde toneelstuk vertrokken. Wendy vertelt verhaaltjes aan haar twee broers, Peter Pan luistert aan het raam mee, verliest zijn schaduw in Wendy's kamer en voor je het weet vliegen ze allemaal het raam uit op weg naar Neverland. In dat opzicht is P.J.Hogan's adaptie een behoorlijk klassieke film, net zoals de bekendste Peter Pan-verfilming die in 1953 door de Disney-studio's gereleased werd. Hier en daar zijn er wel kleine verschillen tussen beide op te merken, maar over het algemeen blijven ze zeer trouw aan het originele toneelstuk.
Zelf ben ik een grote fan van animatiefilms in het algemeen. In tekenfilms kunnen de makers immers makkelijker hun creativiteit de vrije loop laten, waardoor ze vaker erin slagen om de juiste sfeer en charme van het verhaal weer te geven. Toch moet ik toegeven dat wanneer ik hier beide Peter Pan-verfilmingen naast mekaar leg, mijn voorkeur zeer duidelijk naar P.J.Hogan's live actionfilm uitgaat. Met een budget van rond de 100 miljoen dollar moesten regisseur Hogan en zijn productiecrew zich ook niet echt geremd voelen in hun artistieke creativiteit...
En dat de film peperduur is, dat is er aan te zien. Neverland is werkelijk prachtig om naar te kijken: kleurrijk, artistiek en met veel oog voor detail. Je kijkt niet naar een sprookje; je zit er middenin. Of tenminste: als je Peter Pan door dit Neverland ziet vliegen, dan wil je eigenlijk niets liever dan naast hem meevliegen en al je zorgen achterwege laten. Vliegen zelf is me niet gelukt, maar de schitterende muziek deed me alvast in hogere sferen belanden!
Het moet echter gezegd worden: met geld kun je niet alles kopen. De magnifieke setting is één deel, maar een groot deel van de charme van de film vloeit voort uit de vertolkingen van de personages. De volwassen (met Peter Isaacs naar goede oude gewoonte in een dubbelrol als Captain Hook en vader Darling) doen wat van hen verwacht wordt. Ludivine Sagnier zet een heerlijke Tinkerbell neer, waarmee ze de fletse vertolking van Julia Roberts van hetzelfde personage in Hook helemaal van de kaart veegt. Maar het zijn Jeremy Sumpter (Peter) en Rachel Hurd-Wood (Wendy) die de show stelen. Ondanks hun jonge leeftijd stralen ze bijzonder veel charisma uit en hebben ze er duidelijk geen enkel probleem mee om een hele film te dragen. Spijtig genoeg loopt het met vele kindsterretjes verkeerd af, maar ik hoop alleszins dat we beiden nog vaak mogen terugzien op het witte doek!
Al vonden vele conservatieve Amerikanen dat ze iets te veel van hen lieten zien op het grote scherm. Anders dan in de cleane Disney-adaptie is Wendy duidelijk een meisje dat op het punt staat een jonge vrouw te worden. Wat resulteert in een lichte seksuele spanning tussen haar en Peter en uiteindelijk in een echte kus. P.J.Hogans's Peter Pan is dan ook een kinderfilm met volwassen allures. Conservatief Amerika stond op zijn kop, maar eerlijk gezegd: na zoveel keren de brave versie gezien te hebben, waarin veel gesuggereerd wordt maar niks in gebeurt, werd het stilletjes aan wel eens tijd dat er wat actie tussen beiden kwam!
En tenslotte nog dit voor de dvd-freaks: de dvd van de film bevat naast een alternatief einde voor de film (waarin Peter de volwassen Wendy ontmoet) een heleboel interessante extras over de opnames van de film. Wie de film goed vond, zal zich dus nog wel eventjes weten te amuseren met de dvd!
Lezers score
Reacties