Quantum of Solace meteen aan de boxoffice top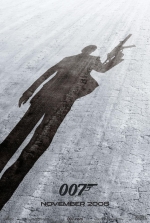 De nieuwe Bond is in de zalen en het lijkt meteen raak. Dit weekend ging Quantum of Solace in grand opening in James Bond's thuishaven Engeland. De film brak er alle records en is nu de titelhouder van de grootste openingsweekend met £15.4 miljoen. Harry Potter and the Goblet of Fire wordt hiermee van de top gehaald.
Ook bij ons wordt de film enorm gehyped. Gisteren was het de grote Belgische première van Quantum of Solace, Kinepolis Brussel hield een enorm event waar de Belgische showbizz alom vertegenwoordigd werd. 
Casino Royal was de eerste Bond film waarin Daniel Craig de titel rol op zich nam. Het was bang afwachten op het resultaat, maar Craig heeft zichzelf als Bond kunnen bewijzen voor het grote publiek en de film was een groot succes. De verwachtingen zijn dan ook hoog voor dit vervolg.
Het verhaal pikt in op ongeveer een uur na het einde van Casino Royal. Bond is slecht gezind voor de dood van zijn vriendin en is uit op wraak. Hierna begint een wervelend avontuur waarin Bond op zoek gaat naar de waarheid achter het verraad van zijn geliefde Vesper. Hij ontdekt hierbij dat de organisatie verantwoordelijk voor haar dood een dreiging is voor de hele wereld.
Afgaande op de trailer van Quantum of Solace (een titel dat overigens niets bijzonders betekent) is de film één grote actie bom. Bond is voor mij toch iets eleganter, de echte gentleman was er al een beetje af in Casino Royal. Nu lijkt Bond helemaal rogue te gaan.
Ik ben overigens benieuwd wat voor actiefilm het wordt, het is namelijk de eerste actiefilm voor de regisseur Marc Forster. Hij kon mij eerder al ontroeren met Finding Nvereland, maar hij is wellicht het meest bekend voor de controversiële Monste's Ball. 
Reacties