War of the Worlds (2005)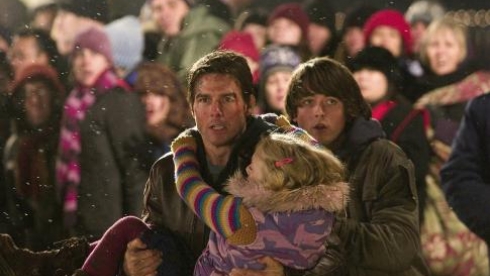 War of the Worlds was een van de films die voor mij de jaarlijkse zomerput de voorbije zomer zou vullen. Ik ben er helaas nooit toe geraakt hem op groot scherm te zien. Deels door de grote hoeveelheid aan teleurgestelde kijkers en een hand vol negatieve reviews. Maar ik heb hem uiteindelijk dan toch gezien, en zoals steeds denk ik er het mijne van.
Het plot is vrij simpel en denk ik ondertussen wel gekend door de meeste mensen. Op een dag rijzen er grote metalen monsters, Tripods, uit de aarde op bestuurd door buitenaardse wezens. De wereld staat in rep en roer en alles staat in het teken van overleven.
Wat deze film voor mij anders maakt is dat de camera steeds zweeft rond één gezien, een vader (Tom Cruise) en zijn twee kinderen, en dat we daarbuiten weinig te zien krijgen van wat er zelfs maar een straat verder gebeurt. Spielberg is zeker niet de eerste om dit te doen, neem nu Signs, ook hier wordt voornamelijk één gezin gevolgd. Maar Spielberg drijft het nog een stapje verder door bijna claustrofobisch rond het gezin te zweven en de camer bijna in hun gezicht te duwen. Zo gaat de aandacht alleen uit naar het gezin en hun gevecht om te overleven, de reuze robots zijn maar een voetnoot.
Eens je het van je af gezet hebt dat je niets anders te weten komt buiten wat er met het gezin gebeurt, is het een interessante film met interessante plotwendingen en is het absoluut niet moelijk je te laten meeleven met het gezin. Ook de acteer prestaties van de drie personages zijn zeer aanvaardbaar, vooral Tom Cruise had ik niet verwacht dat hij iemand anders kon spelen dan een blaaskaak (op Collateral na) en bijgevolg draag hij de film vrij goed. Het hysterisch geschreeuw van Dakota Fanning begint gelukkig na enige tijd te wennen. Kinderen.
Hiernaast is er fotografisch een zeer sterke film gemaakt, er zitten een aantal zeer knappe beelden in. Ook de soundeffects zijn zeer knap gedaan en zorgen soms voor grote spanning. Op enkele kleine zaken na, die gewoon niet realistisch zijn, maar waar we graag willen langskijken is het een zeer smaakbare film, tot net voor het einde.
Een film staat of valt met het einde, War of the Worlds valt, vrij hard zelfs. Het einde is op zich vrij abrupt, waar ik absoluut geen probleem mee heb. Waar ik me wel aan stoor is enerzijds de Hollywood ending en anderzijds de slotvertelling. Omdat de film vrij abrupt eindigt zit je als kijker met enkele vragen, deze vragen worden op het einde droogweg beantwoord door een verteller op een manier dat alleemaar goedkoop en inspiratieloos overkomt. Dan blijf ik nog liever zitten met mijn vragen. Jammer want het kost de film een extra ster.
Lezers score
Reacties