Spaceballs (1987)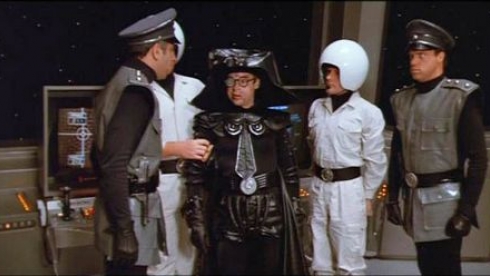 Ik wil al een tijdje de laatste Star Wars film gaan zien in de bioscoop, maar ik blijf dat maar uitstellen in de hoop dat binnenkort de drukte geluwd is en ik dat rustig op mijn gemak (lees: zonder pubers rondom mij) kan gaan doen. Om mezelf toch al in hogere galactische sferen te brengen heb ik dit weekend dan maar Spaceballs gekeken, de bekendste parodie op de Star Wars saga. Een kameraad had me die aangeraden als zijnde 'hilarisch'. Een beetje humor zo af en toe doet een mens geen kwaad, dacht ik. Maar ik dacht verkeerd...
Het plot van deze dwaze film is flinterdun, maar dat is natuurlijk niet echt een verrassing. Prinses Vespa, van de planeet Druida is voorbestemd om prins Valium, de enige overgebleven prins van de Galaxy, te trouwen. Maar dat is tegen haar zin, dus stormt ze de kerk uit en vliegt ze de sterren in met haar hagelwitte Mercedes. Promt wordt ze gekidnapt door de kwaadaardige spaceballs, die op hun thuisplaneet alle propere lucht hebben opgebruikt. Prinses Vespa is het ideale pion in hun oorlogsqueeste om de schone lucht van de planeet Druida te stelen. Maar dat is buiten de waard gerekend natuurlijk. En de waard komt in de vorm van de eenzame spaceranger 'Lone Star', die net op tijd in zijn vliegende caravan komt aangevlogen om het hele boeltje weer op orde te zetten. Daarin bijgestaan door de wijze groene man Yoghurt die hem de kracht van de Schwarz leert...
Niet dat de plot er veel toe doet bij dit soort films. Persoonlijk was ik vooral aangetrokken door duizendpoot Mel Brooks, die met ondermeer Young Frankenstein , The Producers en Robin Hood: Men in Tights een stevige reputatie als schrijver/regisseur/acteur/producer binnen het komediegenre heeft opgebouwd. Maar met deze Spaceballs ging hij toch wel zwaar uit de bocht. De film zit vol goede ideeën, maar de uitwerking ervan slaagt behoorlijk tegen. Toegegeven, een parodie/komedie maken die constant hilarisch is, is bijna onmogelijk. Daarvoor liggen de opvattingen over wat grappig is en wat niet veel te ver uiteen. Maar een komedie maken die eigenlijk nooit grappig is? Daar zie ik het nut niet van in...
Misschien lag het aan mijn eigen. Misschien wordt ik te oud voor dit soort films. Misschien lag het aan het feit dat ik nuchter was. Maar deze Spaceballs deed niets voor mij. Verder dan af en toe wat gegrinnik (vooral dan met het ellenlange openingsshot van een spacecruiser die voorbij glijdt en met het personage van 'Pizza the Hut') ben ik niet geraakt. Subtiele humor of op-de-man humor, ik kan van beide genieten. Maar hier was de humor volledig zoek. Spaceballs is willen, maar niet kunnen. Het is huilen met de pet op. Want naarmate de film vordert, en al je verwachtingen één voor één de grond in geboord worden, wordt het zelfs frustrerend om de film uit te kijken. Een slecht drama, is een saaie film. Een komedie die niet grappig is, is simpelweg irritant. Al helpt het wel dat de film zijn eigen ook niet al te serieus neemt.
Meer woorden maak ik er niet aan vuil. Wie zin heeft in een dwaze komedie: er zijn betere films op de markt dan Spaceballs!
Lezers score
Reacties