Angels in America (2003)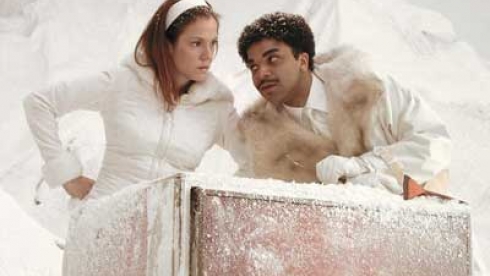 De zesdelige miniserie Angels in America was vorig jaar hét paradepaardje van de Amerikaanse TV-zender HBO. Een serie over een reeks homoseksuelen maken voor een groot publiek is geen eenvoudig gegeven in een land dat op sommige vlakken nog vrij conservatief is. Maar regisseur Mike Nichols (The Graduate, Primary Colors, Closer) kwijt zich met verve van deze taak en heeft met deze serie zonder twijfel één van de betere zaken gemaakt die de laatste jaren op TV verschenen zijn.
Angels in America volgt in zes delen het leven van enkele mannen een vrouwen in het Amerika van de jaren '80, dus tijdens de begindagen van de vreselijke aidsepidemie en het tijdperk van Reagan: een homokoppel waarvan één van beide mannen aids heeft , een flamboyante mannelijke en homoseksuele verpleger, een getrouwd koppel waarvan de man stiekem homo is, de moeder die niet wil aanvaarden dat haar getrouwde zoon eigenlijk homo is, een beroemde maar gewetenloze homoseksuele advocaat die niet alleen stervend is, maar ook op het punt staat om zijn advocaatslicentie te verliezen en -last, but certainly not least- een vrouwelijke engel die komt verkondigen dat de hemel in de problemen zit en dat God hen in de steek heeft gelaten. Langzaam maar zeker raken hun levens in elkaar verstrengeld.
De mini-serie is gebaseerd op het gelijknamige toneelstuk van Tony Kushner waarmee de auteur een Pullitzer prijs verdiende. Net als in het toneelstuk nemen de verschillende acteurs en actrices in de film meerdere rollen op zich. En die verschillende acteurs en actrices vormen samen een weergaloze cast. Al Pacino en Meryl Streep zijn de bekendste namen, maar de rest van de hoofdacteurs (Emma Thompson, Justin Kirk, Mary-Louise Parker, Jeffrey Wright, Patrick Wilson en Ben Schenkman) levert ook een aantal schitterende performances af. Zelden heb ik zoveel schitterende vertolkingen in één film samen gezien!
De serie mag dan wel gebouwd zijn op een licht ontvlambare materie -homoseksualiteit en het katholieke geloof- maar echt taboes doorbreken of mensen nodeloos tegen de schenen schoppen doet ze niet. Juist dat geeft de serie een groot cross-over potentieel naar de hele bevolking. Angels in America is een serie die niet voor een beperkt doelpubliek gemaakt is, wel een serie die probeert iedereen een kritische kijk voor te schotelen op de politiek van Reagan (waar er een link te trekken valt met de politiek van Bush nu) en op een homofobe en gesloten maatschappij. Echte homohaters of diepgelovige katholieken kunnen zich misschien beter wel onthouden: zo was er in Amerika bijvoorbeeld grote consternatie over een scène waarin één van de hoofdrolspelers seks heeft met een engel.
Onlangs was de serie op de Nederlandse TV te zien; wie ze toen gemist heeft moet wachten tot een Belgische zender de uitzendrechten opkoopt. Of je kan natuurlijk - zoals ik gedaan heb - naar de videotheek lopen om de dvd te huren. Een zes uur durende marathon in je woonkamer houden heeft ook zijn charmes. Hoe dan ook, als je de kans krijgt om deze serie mee te pikken zou ik die zeker niet laten schieten. Angels in America heeft alles wat goede televisie nodig heeft: sterren, goed acteerwerk, schitterende visuele effecten ( het budget van de serie overtreft het budget van vele Hollywoodproducties) en een aangrijpend verhaal. Ik was in elk geval serieus onder de indruk van dit werkstuk!
En voor wie nog niet overtuigd is: zowel publiek als critici waren wild van de serie in Amerika. Niet alleen behaalde Angels in America zeer goede kijkcijfers, ook heeft de mini-serie werkelijk alle records op de belangrijke prijzenceremonies in Amerika gebroken. Zo sleepte Angels in America maar liefst 21 Emmy nominaties (de Oscars van de tv) in de wacht, waarvan hij er 11 effectief won. Alle acht castleden die één van de hoofdpersonages vertolkten kregen een nominatie voor beste acteur of actrice. Spijtig genoeg worden er geen acht acteerprijzen weggeven natuurlijk... Bij de Golden Globe Awards was het hetzelfde verhaal. In de vijf categorieën voorzien voor een miniserie werd Angels in America zeven keer genomineerd door meerdere acteernominaties. Hoeft het nog gezegd dat de serie alle vijf de Golden Globes mee naar huis nam?
Lezers score
Reacties