Hancock (2008)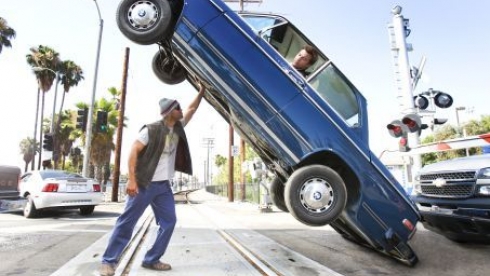 Iron Man doorkliefde niet lang geleden de cinemahemel, Edward Norton kleurt momenteel groen van woede en Heath Ledger krijgt binnenkort een Oscarbeeldje op zijn gedenksteen. Superhelden zijn hipper dan rehabklinieken en Hancock probeert daar een graantje van mee te pikken. Toch is de vijfde bioscoopfilm van Peter Berg niet het zoveelste super hero verhaal in het ondertussen lange rijtje. Of dat een voor- of nadeel is, moet nog duidelijk worden.
Zoals we bij een wilde politieachtervolging op televisie in de actie worden geworpen, zo kent ook Hancock een flitsstart zonder voorgeschiedenis. Will Smith alias John Hancock (die er uit ziet alsof hij vier dagen Werchter achter de rug heeft) wordt wakker op een bankje in de stad en ondanks een stevige kater steekt hij de politie een handje toe bij het klissen van een bende bandieten. Dat doet hij niet door eerst in een telefooncel een strak pakje aan te trekken en ondertussen nog een oma de straat over te helpen. Wel legt hij zonder scrupules half Los Angeles in puin. Meteen is duidelijk dat Hancock geen doorsnee wonderkind met een iets te blits kapsel en een onderbroek over de pantalon is.
Zijn heldendaden gaan niet onopgemerkt voorbij en ook pr-agent Ray Embrey (Jason Bateman) krijgt in de smiezen dat Hancock meer kwaad doet dan goed. Tijd om hem een nieuw jasje aan te meten zodat ook de rest van de stad hem als een echte held gaat beschouwen en niet als een dronken, destructieve en vuilbekkende wervelwind. Geen eenvoudige opdracht als we weten dat er nog een paar verrassende addertjes onder het smeulende gras schuilen.
Als we nu te kwistig zijn, zouden we de film redelijk wat bejubelingen kunnen toedichten. Dat de film een mooi beeld op hangt van de sterren van de nieuwe eeuw waarin imago alles bepaalt. Dat het verhaal van een zwarte Amerikaan die de harten van een overwegend blanke samenleving probeert te winnen, de komende maanden brandend actueel zal zijn. Of dat de Westerse samenleving zijn angstcultuur een plaats begint te geven. Maar dat zou wat teveel krediet zijn voor deze aardige brok entertainment zonder meer.
Genoeg overbodige lofbetuigingen. In essentie is Hancock gewoon een leuke manier om een saaie weekavond door te brengen zonder je hersenen al te veel te pijnigen. De acteerprestaties blijven amper nazinderen (het blijft moeilijk om Will Smith zonder basketsloefen te zien). Het verhaal zelf is een leuk, maar amper uitgewerkt idee, dat mits wat meer durf en duisternis een aardige film had kunnen opleveren. Nu wordt er vooral op veilig gespeeld met ontploffingen, geforceerde geestigheid en zo min mogelijk diepgang.
Als je alleen de best grappige heldendaden wil zien, heb je gelukkig genoeg aan de trailer (zelfs in de film zie je ze voornamelijk via YouTube). Wil je toch per se zeven euro uitgeven, bewonder dan de echte helden van In Bruges. Twee sterren voor anderhalf uur popcornpret.
Lezers score
Reacties