Running with Scissors (2006)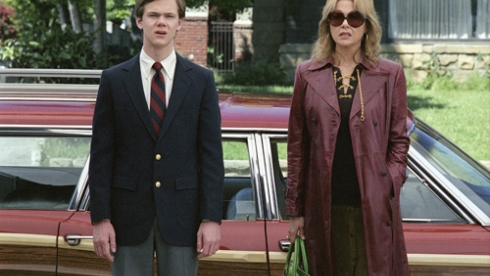 "I'm more like my mom. I want to be special and I want to be famous." Dat was Augusten Burroughs op zesjarige leeftijd. Ondertussen schreef hij een boek over zijn wel zeer bizarre kindertijd, Running with Scissors: A Memoir. Uiteindelijk kwam daar deze, bijna gelijknamige, film uit voort.
Augusten Burroughs (gespeeld door Joseph Cross) heeft het niet gemakkelijk gehad als kind. Zijn moeder Deirdre (Annette Bening) beschouwt zichzelf als de werelds grootste schrijfster die nooit de roem heeft gekregen die ze verdiende. Zijn vader Norman (Alec Baldwin) zit constant aan de fles, begrijpt niet waarom hij met een gek getrouwd is en ziet niets van zichzelf in zijn zoon. Nadat de stoppen bij zijn moeder nog wat verder door sloegen is ze naar een therapeut, Dr. Finch (Brian Cox), beginnen gaan.
Voor zijn vader was het allemaal te veel geworden. Het was Norman duidelijk dat Dr. Finch misbruik maakte van de situatie. Norman liet uiteindelijk kind en vrouw achter. Deirdre ging er ondertussen niet op vooruit. Het werd zo erg dat ze op een dag besloot om Augusten achter te laten bij de familie van Dr. Finch. Een zeer excentrieke familie waar Augusten de minste affiniteit mee heeft.
We zien hoe Augusten zijn moeder emotioneel probeert te steunen en ondertussen zichzelf leert kennen en probeert te ontplooien. Hij is 14 jaar oud en wordt eigenlijk verlaten door beide ouders. Hij zit midden in een gekkenhuis, hij gaat niet naar school en hij heeft een relatie met een 30 jarige man.
Als we even tussen de regels door lezen dan gaat het over veel meer dan Burroughs en zijn herinneringen alleen. Het verhaal toont hoe we als kind regels en structuur nodig hebben tijdens onze opvoeding. Zodat we, als we oud genoeg zijn zelf onze weg kunnen vinden. Niemand zou als kind de trauma's moeten doorlopen die Augusten heeft mee gemaakt.
Maar het gaat ook over mensen die zichzelf en hun eigen oordeel niet meer vertrouwen. Zij zetten al hun hoop in op een specialist, iemand met een doctoraat zal wel raad weten. Mensen zoals Deidre zijn gemakkelijke doelwitten en dat weet Dr. Finch ook en hij maakt er dan ook gretig gebruik van. Het is maar al te gemakkelijk om de mensen een pilletje te geven in plaat van ze helpen hun problemen zelf op te lossen. Dat Dr. Finch eigenlijk niet weet waar hij mee bezig is, en enkel op het geld uit is wordt meermaal duidelijk gemaakt: "Ik heb hier net een nieuw pilletje binnen. Geen idee wat het doet, maar probeer het eens."
Allemaal heel dramatisch en ik zou er graag in opgaan en meeleven met Augusten, maar de film laat het niet toe. De aftekening van de personages gaat zo ver in zijn absurditeit dat ze een karikature van zichzelf worden. Alle aanraking met de realiteit is verloren. Die enkele serieuze momenten die er in zaten werden vervolgens tot niets herleid door compleet contrasterende muziek te draaien. Het geheel lijkt uiteindelijk een aaneenschakeling van ideëen en absurditeiten die zichzelf niet meer serieus nemen.
Het moet wel gezegd dat Annette Bening als de moeder van Augusten dat zeer goed gedaan heeft, ze was echt prachtig in haar schyzofrene rol. Ook Joseph Cross als Augusten deed dat niet slecht. Alec Baldwin zie ik altijd graag op het scherm verschijnen. Hij heeft zo iets droog over hem hangen dat altijd goed van pas komt in de meer cynische komedie. Deze film doet hem echter geen eer aan.
Ik praat zo slecht over Running with Scissors, maar eigenlijk was het zo slecht niet. Ik heb een paar keer zeer hartelijk gelachen. Het is enkel als drama dat de film niet ver komt, en het verhaal is me toch net iets te dramatisch om als inhoudloze absurditeit afgeschidlerd te worden. Al bij al geen slechte regie debuut voor Ryan Murphy.
Lezers score
Reacties