Huo Yuan Jia (Fearless) (2006)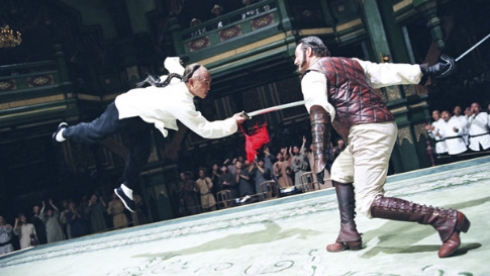 De laatste Jet Li film, of zo wordt Fearless toch gepromoot. Eigenlijk gaat het om Jet Li's laatste Chinese epic martial arts film. Films als deze draaien zodanig rond één historische of mythische figuur uit de Chinese geschiedenis met betrekking tot een bepaalde discipline - wushu in dit geval - en er zitten heel wat achtereenvolgende vechtscènes in. Het eindeloos zweven aan kabels en precisie vechten wordt Jet Li een beetje veel. Maar we zullen hem zeker nog terug zien in andere films en hij zal blijven vechten, alleen niet meer zo uitgebreid.
Fearless volgt losjes het leven van Huo Yuanjia (Jet Li). Eén van de belangrijkste mensen uit de geschiedenis van de Chinese vecht kunst. We bevinden ons in de periode ronde de eeuwwisseling naar de 20e eeuw. Huo Yuanjia was als meester in de wushu onverslaanbaar. Zijn doel was iedereen te verslaan in TianJin. Iedere overwinning leidde echter tot groeiende trots en arrogantie. Tot het helemaal fout loopt en zijn familie vermoordt wordt als wraak. In rauw en vol schaamte verlaat hij TianJin. Na enkele jaren in een idyllisch dorp gewoon te hebben onder simpele boeren komt hij tot bezinning en keert hij terug naar TianJin. Hier komt hij toe in een China geplaagd door vreemde naties en culturen die neerkijken op de Chinees. Hij wil hierom de Chinezen verenigen want als groep sta je sterker. Hiervoor richt hij de Jing Wu Sports Federation op. Ten slotte wordt hij uitgedaagd tot een gevecht met vier van 's werelds grootste vechters met als doel China te vernederen.
Het verhaal is gemakkelijk op te delen in drie luiken. Behoorlijk klassieke luiken zelfs. Ten eerste hebben hoogmoed, arrogantie en trots. Zaken die steeds te val komen, iets dat er in deze film nogal dik op ligt, maar de val zie je als buitenstaander meestal wel aankomen. In de middelste luik hebben we boetedoening waarbij de hoofdpersonage tot inkeer komt. In het geval van Fearless haalt dit deel het tempo wel wat naar beneden en botst het een beetje met begin en einde. Waar het tempo opnieuw wat hoger ligt. Even voor de volledigheid, in de derde luik keert het hoofdpersonage terug als een beter persoon en zet hij zich in voor een groter doel.
De vecht scènes zijn zoals wel te verwachten was prachtig. Hoewel ze voor mij niet het niveau halen films als Hero en House of Flying Daggers, maar dit hang samen met de fotografie. De coördinatie van de scènes is zoals in de andere films onberispelijk. Het zijn ook lange sequenties en het ziet er niet al te eenvoudig uit, zeer begrijpelijk dat de inmiddels 43 jarige Jet Li hier niet zo veel zin meer in heeft. Maar het blijft toch enorm mooi om naar te kijken.
Maar zoals ik al zei halen ze voor mij niet het verdiende niveau. De sènes zijn oppervlakkiger gefilmd en trager gemonteerd. Ok de fotografie is meer doorsnee waardoor alles een beetje zijn magie verliest. Het blijft knap en bewonderenswaardig maar echt verbluffend is het niet. Ik ga er vanuit gaan dat dit met opzet gedaan is gezien het hier om een historisch verhaal gaat en niet een mythische. Of anders ben ik verwend en verwacht ik te veel.
Begrijp met niet verkeer, Fearless is geen slechte film, hoewel het tempo voor mij een tikje hoger had mogen liggen maar hier gaan we niet over struikelen. Persoonlijk lag het verhaal mij niet echt, ik geef de voorkeur aan films als Hero en House of Flying Daggers, een mythischer verhaal dat zich ook vertaalt naar een kunstzinniger aanpak.
Lezers score
Reacties