The Da Vinci Code (2006)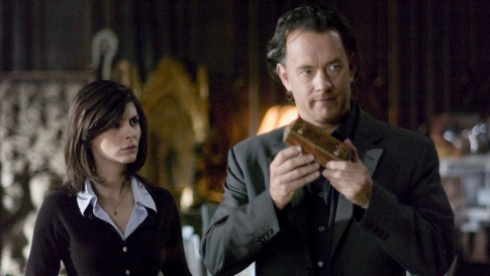 Ik ben niet de persoon om gratis tickets af te slaan. Toen ik tickets aangeboden kreeg om tijdens een Proximus avond naar The Da Vinci Code te gaan (met gratis popcorn en drank!) heb ik die uiteraard met veel plezier aangenomen. Zoals velen had ik het boek al gelezen en was ik behoorlijk benieuwd hoe ze het zouden overzetten naar film. Mijn enthausiasme was helaas wel al wat afgenomen na het lezen van heel wat negatieve kritieken. Maar ik laat mij niet graag bepraten en vorm liefst mijn eigen mening.
Over het verhaal zelf is al immens veel over geschreven en gezegd dat het mij bijna overbodig lijkt om het hier nog eens in het kort te zetten. Maar voor de goed orde ga ik het alsnog doen. The Da Vinci Code is gebaseerd op de gelijknamige en zeer controversiele roman van Dan Brown. Door een moord in het Louvre wordt er het een en ander in beweging gezet. Robert Langdon (Tom Hanks) en Sophie Neveu (Audrey Tautou) volgen een serie raadselachtige aanwijzigen die leiden tot het best bewaard geheim van de geschiedenis. Eén van dergerlijke proporties dat ze de fundamenten van het Christendom zouden kunnen omslaan.
Ik ga eerlijk zijn: ik heb enorm genoten van het boek, er zat tempo in, een niet al te ingewikkeld verhaal, mysterie, dubbelspel.. Dan Brown is geen literair talent, maar om te entertainen moet dat niet. Kortom het ideale boek voor een namiddag in de tuin liggen. Er zat ook heel wat potentieel in om er een heerlijke brainloze entertainende film van te maken. Helaas hebben Ron Howard en zijn team er alles aan gedaan om een zo ongenietbaar mogelijke film te maken.Net nadat ik de film gezien had zat het bloed mij onder de nagels, ik heb nog nooit zo ambetant gelopen van een film. Maar het is ondertussen al een tijdje geleden dus ik zal het wat beleefd proberen houden.
Het tempo dat je in het boek gewaar wordt lijkt te ontbreken in de film. De film gaat op bepaalde momenten zo traag dat het echt begint te vervelen. Het tempo wordt omlaag gehaald door een zeer saai camera werk. Weinig uitdagende en interessante beelden. Het beetje snelle actie dat er dan weer inzit wordt verpruts door een slordige motage waarbij het bijna onmogelijk is een goed beeld te krijgen is van wat er gebeurt.
Het verhaal daarentegen, hebben ze zoveel mogelijk proberen in stoppen. De verschillende scènes volgen mekaar soms zo snel op dat je je interesse verliest in wat er precies aan de hand is. Je desinteresse wordt nog eens versterkt door enkele minder-relevante scènes danig lang uit te rekken en traag weer te geven tot het saaie toe. Uiteindelijk hangt het allemaal maar zeer losjes samen. Komt daar bij dat het vaak zeer onrealistisch overkomt. Het mooiste voorbeeld hiervan is het moment dat ze in een vliegtuig zitten, eventjes uit het raampje kijken en onder hen de politie zien rijden. 'Oh nee!'
Dat hun film niet al te sterk in mekaar zit lijken ze te beseffen en bevestigen door hun personages af en toe in het kort te laten uitleggen wat er net gebeurd. Ook de acteer prestaties laten enorm te wensen over. Ik kan niet anders dan om bij het niveau van zowel de dialogen als van de acteurs te denken aan (slechte) soap. Het komt mij allemaal wat ongeloofwaardig over, zeg maar. Een slechte carrièrezet, vooral voor Audrey Tautou.
Eigenlijk voelde ik mij na de film een beetje beledigd. Ze leken er echt van uit te gaan dat hun pupliek absoluut niets zou snappen van The Da Vinci Code als ze hem op een degelijk manier verfilmd zou zijn. Langs de andere kant kreeg ik ook alleen maar het gevoel dat ze de film er zo snel door gejaagd hebben enkel maar om te incasseren, wat natuurlijk niets deftigs kan opleveren. Een retake hier en daar zou helaas niet volstaan hebben. Ik ben bijna aan het hopen dat de film over 30 jaar opnieuw gedaan wordt, al was het maar om het boek iets meer eer aan te doen.
Lezers score
Reacties