Bin-Jip (2004)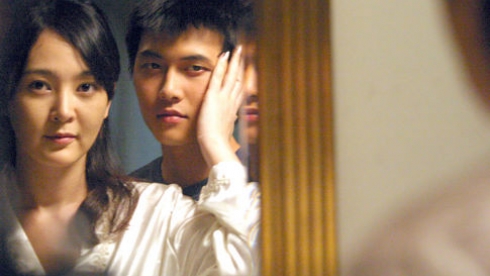 Ki-duk Kim heeft al wel enkele films op zijn palmares staan, maar zijn grote internationale doorbraak kwam er pas vorig jaar met het fel geprezen en bekroonde Spring, Summer, Fall, Winter... and Spring. Zijn jongste film, Bin-Jip, bewijst dat Ki-duk Kim inderdaad een hoogst getalenteerd regisseur is. Zijn nieuwe film is een merkwaardige en onconventionele liefdesgeschiedenis, beklijvend van begin tot einde en een verademing tussen al het geweld en de actie van de doorsnee bioscoopfilm.
Hee Jae is een jonge zwerver: zonder thuis, zonder familie en zonder vrienden (voor zover de film ons tenminste een blik gunt in zijn leven). Hij breekt 's nachts in in de huizen van andere mensen terwijl zij afwezig, of op vakantie zijn. Nochtans is hij geen boef. Hij maakt van het huis het zijne, bedankt de eigenaars voor hun 'gastvrijheid' door ondertussen de was te doen of kleine zaken te repareren en vertrekt weer na één nacht of enkele dagen, voor de rechtmatige eigenaars terug komen.
Zijn levensstijl bezorgt hem redelijk weinig problemen, tot hij op een dag in een groot landhuis inbreekt. Het huis, dat op het eerste zicht bleek leeg te staan, herbergt nog een andere bewoonster. Een jonge, ongelukkige vrouw die vastzit in een slecht huwelijk. In het begin leven ze naast mekaar in hetzelfde huis, zonder dat dat de vrouw (Seung-yeon Lee) zich toont. De nacht brengt daar echter verandering in. Wanneer haar man weer thuis komt, ziet de vrouw haar kans schoon om samen met Hee Jae te vertrekken en zijn zwerversbestaan over te nemen. Samen beginnen ze een nieuw leven. Maar hun zwerversbestaan is gedoemd om hen in de problemen te brengen, en de jaloerse echtegnoot is ook niet van plan om zijn vrouw zonder slag of stoot af te staan.
Misschien geef ik hiermee al veel van de plot weg, maar het is onmogelijk om een review over de film te schrijven zonder dat te doen. Bovendien denk ik niet dat deze korte bespreking iets aan je filmervaring zal afdoen, want Bin-jip is een film die volledig opgebouwd is rond sfeer en stijl; het scenario is van volledig ondergeschikte rol.
Bin-Jip is een hoogst onconventionele film, en dit vooral dankzij zijn vertelstijl. Ki-duk Kim vertelt zijn verhaal met een minimum aan dialoog. In de praktijk komt dat er op neer dat beide hoofdpersonages gedurende het grootste deel van de film geen woord zeggen. Seung-yeon lee spreekt enkele woorden aan het einde van de film; Hee Jae blijft een hele film woordenloos. De enige die praten zijn de bijpersonages, maar als je weet dat gedurende 75% van de film alleen beide geliefden in beeld zijn, mag het duidelijk zijn dat dit voor het grootste deel een 'stille film' is.
Dit gebrek aan dialoog is meteen ook de grootste sterkte van de film. Het maakt de ontluikende liefde tussen beide jonge mensen een stuk intiemer en subtieler, dan eender welke dialoog had kunnen doen. De traditionele narratieve vertelstijl wordt volledig overboord gegooid. Bin-Jip wordt verteld alsof het een visuele droom is. Meteen weerlegt de film als geen andere film het vaak gehoorde vooroordeel dat een sterk scenario en stevige dialogen een basisvereiste zijn om een goede film te maken. Een film kan volledig draaien rond sfeer en emotie.
Zonder ooit zwaar te worden, is Bin-jip van begin tot einde een boeiende én beklijvende film. Een beeld zegt soms meer dan duizend woorden. En deze film slaagt erin om met bijna uitsluitend beelden, een zeer diepe emotionele snaar te raken.
Lezers score
Reacties