Gong fu (Kung Fu Hustle) (2004)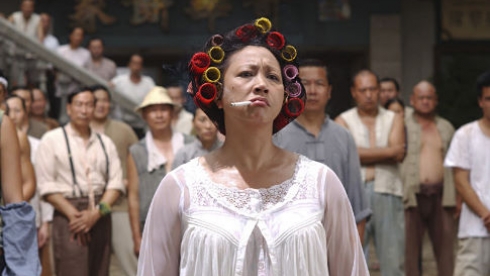 Enkele weken geleden heet het STUK het seizoen afgesloten, Cinema Zed vierde mee met twee verrassingsfilms. De eerste was een avantpremière. Tips: western, maffia, musical, kung fu. Ik zie je als vertwijfeld kijken: "kan dat dan in één film?" Wel Stephen Chow bewijst dat hìj het wel kan met zijn nieuwste film Kung Fu Hustle. Stephen Chow bracht ons al eerder de hilarisch Shaolin Soccer waarmee hij bewees dat een (Chinese) kung fu film niet per definitie geweldadig en bloederig hoeft te zijn. Met Kung Fu Hustle toont Chow ons dat hij nog meer dan genoeg overschot aan inspiratie, ideeën en talent had.
Het is 1940 en Shangai wordt gedomineerd door de Blij Bende. Hun laatste concurrent, de Krokodil Bende, hebben ze net uit het straatbeeld gekapt. Wil je een veilig en ongestoord leventje leiden weg van alle corruptie moet je al ver buiten de stad intrekken in een torenhoge dorp/appartementblok. Het is in zo een dorpje -Varkenssteeg- waar twee leeglopers zich voordoen als leden van de Bijl Bende. Ze doen dit echter niet heel overtuigend en krijgen niet enkel de bewoners (en enkele Kung Fu meesters) maar ook de Bijl Bende op hun dak. Met alle gevolgen van dien.
De openingsscène alleen al is verbluffend, cool en grappig. Onmiddelijk zit je om meer te vragen. We krijgen te zien hoe de leider van de Krokodil Bende in Clint Eastwood meets kung fu stijl de politiebureau overhoop haalt omdat zijn vrouw gearresteerd is. Na even de puntjes op de i gezet te hebben ze stappen ze als koning en knonigin naar buiten alwaar de beruchte Blij Bende hen staat op te wachten. Straat volledig verlaten, ramen en deuren gesloten. De bende ziet eruit alsof ze recht uit de Chicago van Al Capone komen. Even de lievelingsbijl nemen, benen afkappen en een harteloos vreugdedansje brengen. Even later krijgen we de bende dansend in West Side Story stijl op hun eigen theme met krantenkoppen over hun talloze veroveringen.
Een goed gevulde intro, maar het is niet de hele tijd zo, gelukkig maar want het zou op den duur beginnen vervelen vrees ik. Chow brengt in Kung Fu Hustle heel wat genres aan bod en respecteert de daarbij horende conventies, weliswaar met een eigen humoristische interpretatie. Hij heeft zelfs het lef om zaken door te drijven tot hilarische slapstick. Naast de iets Westerse thema's respecteert hij ook de filmcultuur van eigen bodem met veel bloed in de actie scènes en een beetje goedkoop sentiment gebracht door flashbacks aan een traumatiserende jeugd van Sing (Stephen Chow), één van de leeglopers.
Daarnaast zijn er talloze verwijzing naar andere films, waaronder ook Chow's eigenste Shaolin Soccer. Zo kan je een glimps vangen van Spiderman, The Untouchables en Resevoir Dogs. De meest opvallende link zal wel The Matrix zijn, bewegingen die bijna letterlijk terugkomen en een herfilming van de alom bekende vechtscène van Neo met talloze Agents Smith (Matrix Reloaded). En could he (Sing) be the one? Allemaal zeer plezant.
Ook de cast zit zeer goed, we herkennen enkele grote grote namen en zoals gewoonlijk speelt ook Stephen Chow een belangrijk rolletje. Het meest opvallende is denk ik toch wel Qiu Yuen. Zij speelt de huisbazin van Varkenssteeg. Ze speelt bijzonder sterk, en ze is bijzonder aanwezig. Nog nooit heb ik iemand zien en horen tieren op een scherm zoals zij dat doet.
Het is allemaal een beetje moeilijk en overweldigend om in woorden om te zetten. De gemakkelijkste manier zou zijn om letterlijk te vertellen wat er gebeurt, maar ik vrees dat ik jullie dan beroof van een hilarische filmervaring. Ik kan geen betere raad geven dan deze film te bekijken. Stephen Chow weet heel duidelijk waar hij mee bezig, het is niet voor iedereen weggelegd om op zo een getalenteerde wijze te kunnen schrijven, regiseren en acteren. De man weet duidelijk wat hij wil, en dat toont hij beter dan ooit in Kung Fu Hustle.
Lezers score
Reacties