Sin City (2005)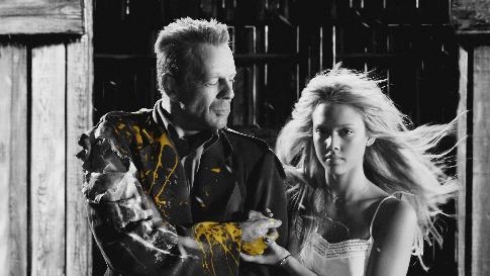 Ben ik de enige die zich soms afvraagt of er nog stripverhalen zouden over zijn om te verfilmen? De laatste jaren zijn we er werkelijk door overspoeld. Met wisselend succes. Momenteel is het weeral raak in de cinema's: Sin City, een verfilming van de donkere misdaadstrips van Frank Miller. Maar vergis je niet: deze Sin City is niet zomaar de zoveelste stripverfilming. Het is de koning van de stripverfilmingen! De beste, origineelste, meest visueel verbluffende, meest spraakmakende en meest opwindende van hen allemaal!
Frank Miller was zeer gereserveerd om de rechten van zijn stripboeken af te staan voor verfilming. Bijna was Sin City dan ook nooit gemaakt. Tot regisseur Robert Rodriguez (Desperado, From Dusk till Dawn, Spy Kids, Once upon a Time in Mexico), zelf enorme fan van Millers werk, besloot de auteur te overhalen door zijn eigen auditie te filmen. Het resultaat - een verfilming van Millers Sin City-kortverhaal The Customer is allways Right met Josh Hartnett en Marley Shelton - stuurde hij op naar Frank Miller. Deze was weg van de aanpak van Rodiguez en de weg naar Sin City lag opeens breed open. Rodiguez' auditie werd integraal opgenomen als openingsscène van de uiteindelijke bioscoopfilm. Frank Miller werd voor zijn dagelijkse aanwezigheid op de filmset door Rodriguez beloond met een volwaardige regisseurscredit.
De prelude The Customer is allways Right niet meegerekend, brengt Rodriguez drie strips van Miller tot leven in een cirkelvormige vertelstijl: The Hard Goodbeye, The Big Fat Kill en That Yellow Bastard. Een ding hebben ze alledrie gemeen: ze spelen zich af tegen dezelfde achtergrond; de duistere misdaadstad Sin City. Een stad vol achtersteegjes, donkere kroegen, bloedmooie vrouwen, corrupte politieagenten, prostituées, boeven en helden. Een stad waar alles mogelijk is. Een stad waar een vreemde tijdloosheid hangt: het decor is een allegaartje van verschillende tijden en stijlen. Oldtimers en Ferrari's rijden door de straten. Machinegeweren en zwaarden liggen in de kasten.
Een eerste verhaal is dat van Marv (Mickey Rourke), een ruwe bolster met een blanke pit, die op een morgen wakker wordt naast een vermoorde prostituée (Jaime King)met wie hij de nacht heeft doorgebracht. Terwijl hogere krachten proberen hem de moord in zijn schoenen te schuiven, gaat hij op zoek naar de ware dader. En naar wraak op diegene die hem zijn enige liefde in zijn leven ontnomen heeft. Een tweede verhaal centreert rond de stoere held Dwight (Clive Owen) en de corrupte politieagent Jackie-Boy (Benicio del Toro). Respectievelijk nieuwe vriend en ex-vriend van dezelfde vrouw (Brittany Murphy). Hun persoonlijke vete krijgt epische proporties wanneer Dwight Jackie-Boy volgt tot in het oude gedeelte van de stad, waar de prostituées de plak zwaaien, onder leiding van Dwights onbereikbare liefde Gail (Rosario Dawson). Het gevecht dat volgt zet de felbevochten wapenstilstand tussen politie, maffiosi en prostituées in Sin City zwaar op de helling. Het derde verhaal, waarmee de film begint en eindigt, is dat van Hartigan (Bruce Willis) en Nancy (Jessica Alba). Hartigan is één van de weinige politiemannen in de stad die zuiver op graat is. Vlak voor zijn pensioen wil hij nog een laatste zaak oplossen. De elfjarige Nancy terugvinden, die ontvoerd is door een monsterlijke seriemoordenaar (Nick Stahl) die zijn slachtoffers martelt, in stukken snijdt en opeet.
Het is echter niet deze cirkelvormige vertelstijl die de film zo speciaal maakt, wel de bloedmooie stijloefening die Rodriguez er van gemaakt heeft. Sin City is bijna uitsluitend in zwart-wit gefilmd. Slechts hier en daar sijpelen kleuren door. Het bloed is rood, net zoals de jurken en de lippen van sommige vrouwen. Ogen zijn groen. En 'the Yellow Bastard' is natuurlijk geel. Het procédé is niet nieuw - Pleasantville deed dit bijvoorbeeld ook - maar nog nooit kwam dit sporadisch gebruik van kleuren zo tot zijn recht als in Sin City. De cinematografie is verbluffend. Het spel met licht en schaduw oogverblindend mooi. Wat getoond wordt mag dan gewelddadig en hard zijn, de manier waarop het in beeld gebracht wordt is een streling voor het oog.
De vaak gemaakte vergelijking tussen Sin City en de film noir ligt dan ook voor de hand. Na de tweede wereldoorlog kwamen er een heleboel donkere, cynische en pessimistische misdaadfilms uit de VS naar Europa overgewaaid, die een aantal distinctieve kenmerken hadden. Door de Fransen werden deze films met de term 'film noir' bedacht. Een term die de tand des tijds met verve doorstaan heeft. De laatste jaren werden er met ondermeer Pulp Fiction en L.A.Confidential een aantal fims gemaakt die dezelfde stijl hanteerden als deze films uit de jaren '50. En terecht, want - samen met het Duits expressionisme - is de film noir volgens mij het interessantste genre uit de filmgeschiedenis. Sin City kan inderdaad zonder twijfel bij deze 'neo-noirs' worden ingedeeld.
Naast het spel met licht en schaduw zijn er nog meer elementen die Rodriguez leent aan de film noir. De coole mannelijke held bijvoorbeeld. In Sin City krijg je hem zelfs in drievoud. De lyrische voice-over die het geheel aan mekaar praat. De stad als oord van verderf en vervreemding. De misdaad, de intriges en de moorden. De beeldschone femmes fatales die de held van vocaal weerwerk dienen… Maar Sin City is meer dan gewoon een moderne film noir. Rodriguez neemt de belangrijkste elementen niet gewoon klakkeloos over. Hij moderniseert ze, hij perfectioneert ze en past ze aan aan de nieuwe standaarden – snellere films met meer actie – en aan de mogelijkheden die de nieuwe technologieën hem bieden, zoals het gebruik van green screen in plaats van live action te filmen. De realistische setting van de film noirs wordt vervangen door de fantasiewereld van de stripverhalen, waar alles mogelijk is. Daarom dat Sin City tegelijk nostalgisch ouderwets als hypermodern aanvoelt.
Voeg aan al deze elementen nog een cast die misschien nog het best omschreven kan worden met de beroemde oude slogan van de vroegere MGM-studio's: 'More Stars than there are in Heaven', en je hebt jezelf een film die je gewoon niet mag missen. Sin City oogt ongelooflijk mooi, is origineel en inventief en is bovendien onwaarschijnlijk cool om te zien. Een instant classic! Vergeet tijdens het bekijken van de film niet om af en toe je mond terug dicht te duwen, want voor je het weet zit je een hele film lang met wijd opengevallen mond naar het scherm te staren, en dat is nu ook weer geen zicht.
Lezers score
Reacties