The Great Dictator (1940)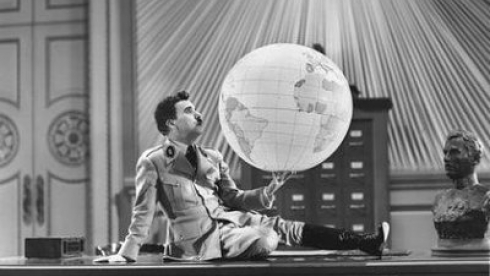 Iedereen kent Charles 'Charlie' Chaplin. Ik ook, en ik was er ten stelligste van overtuigd dat ik ooit wel eens iets gezien had van hem maar ik kan me geen enkele film herinneren. The Great Dictator stond hoe dan ook al enige tijd op mijn lijstje te-zien. De film wordt met een zekere regelmaat nog wel eens op TV getoond, dus echt moeilijk zou het niet kunnen zijn. Maar enkele weken terug kreeg ik de kans deze prent op groot scherm te zien, zoiets laat je niet liggen.
The Great Dictator is, hoe kan het ook anders, een satire op het Nazi Duitsland. De film brengt het verhaal van twee individuen. Je hebt enerzijds Adenoid Hynkel, dictator van Tomania en anderzijds een Joodse kapper, een dubbelganger van Adenoid Hynkel. Van een plot is er niet echt sprake, je krijgt twee verhalen te zien die quasi volledig los staan van mekaar. Je weet dat op een bepaald punt in het verhaal de dictator en de Joodse kapper verwisseld zullen worden, helaas gebeurt dit net voor het einde waardoor de humoristische situatie waar je op zit te wachten veel te kort is. De rest van het verhaal had dan weer gerust wat mogen ingekort worden, misschien dat de toevaligheden en de misverstanden dan wat minder kunstmatig zouden overkomen.
De humor in de openingsscene waarin onze Joodse vriend wordt geïntroduceerd vond ik net iets te droog en inhoudsloos. Ik had dus even schrik dat het de hele film zo zou zijn. Gelukkig herpakt Chaplin zich in de rest van film en wordt het alleen maar beter en beter. Voor zijn eerste sprekende film te zijn is het gebruik van dialoog vrij minimalistisch en blijft het bij het essentiele voor het verhaal. Het gevolg is dat de situatie en de visuele humor zeer belangrijk zijn. Dit leidt in sommige gevallen tot een lichte slapstick met hilarische momenten die zeker geen afbreuk doen aan de rest van de film.
Ook de namen van de personages en de plaatsnamen zijn schitterende vondsten. Een generaal die Garbitsch noemt was al zeer grappig om te horen, nu ik weet hoe het geschreven zit ik hier even opnieuw te grinikken. En wie kan niet houden van een naam als Benzini Napaloni (dictator van Bacteria)? Net zoals het gesproken Duits van de dictator die het steeds weer over Wienersnitchzels heeft.
Waar de film helemaal in de fout gaat voor mij is (naast het feit dat hij iets te lang duurt) het einde. Op het einde krijgen we een slepende monoloog te horen over hoe we mekaar graag moeten zien, en hoe we in vrede met elkaar moeten omgaan, enz. Niet dat ik het niet eens ben met wat er gezegd wordt. Maar het doet zo een afbreuk aan de film en de humoristische sfeer. Twee uur lang heb je zitten lachen met de onwetendheid en de naïviteit van de Joodse kapper en de grootheidswaanzin van de dictator om uiteindelijk een moraliserende tekst in uw gezicht geworpen te krijgen. Deze monoloog zuigt al het beetje humor dat nog in de film zat volledig weg. Misschien is dit de reden dat de film plots zo lang lijkt te duren. (Natuurlijk, in het tijdskader van de film is het niet zo ongewoon om op dergelijk manier te eindigen.)
Hoe graag ik The Great Dictator super zou willen vinden, het lukt me niet. Als ik de kans krijg om hem nog eens te zien ga ik zeker geen nee zeggen. Ik ben ervan overtuigd dat een tweede kijkbeurt de film iets zal opwaarderen, maar voorlopig blijft hij gewoon vrij goed. Hoe dan ook een must-see filmpje!
Lezers score
Reacties