The Texas Chainsaw Massacre (2003)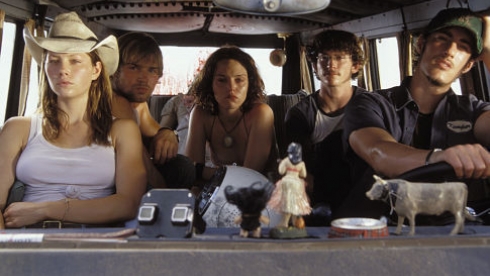 Als je naar de horror films van de laatste jaren kijkt zit er niet al te veel soeps bij. Toegegeven, er zijn een paar waardige pogingen geweest. Neem nu Jeepers Creepers, deze neemt een goede start, maar het geheim wordt helaas te vroeg prijsgegeven en dan vervalt de film in een flauw griezel filmpje. Meer dan wat moderne entertainement stelt het allemaal niet meer voor. De recentelijk verfilmde Dawn of the Dead zou wel goed moeten zijn, maar deze heb ik dan weer nog niet gezien. Helaas is de keuze van Marcus Nispel om de klassieker The Texas Chainsaw Massacre te verfilmen niet zo goed uitgedraaid.
Vijf jongeren komen terug van Mexico na een uitstapje. Op hun weg door Texas komen ze een hysterisch meisje tegen. Ze besluiten haar te helpen en nemen haar mee. Ze krijgen het meisje niet gekalmeerd en uiteindelijk schiet ze een kogel door haar kop. Geheel in paniek zoeken ze hulp bij de lokale mensen. Helaas lijken ze bij een famillie psychopaten terecht gekomen. Een voor een worden ze opgejaagd door een bizar figuur met een kettingzaag.
Als ik naar een horrorfilm kijk verwacht ik angstaanjagende scenes en immense spanning. Ik wil een hele film lang met kippevel in de zetel zitten. Helaas ben ik behoorlijk teleurgesteld door deze film. Het kon me helemaal niet boeien. Er zaten een paar scènes die wel het potentieel hadden maar die net niet aan hun hoogtepunt kwamen. Niet onverwacht lieten ook de acteerprestaties wat te wensen over.
Het beste aan de film zijn de beelden. Er lijkt net dat ietsje meer aandacht geschonken te zijn aan de beelden en de sfeerschepping. Maar gezien de andere elementen niet echt aanwezig waren kwamen ondanks de betere beelden de goede momenten er niet uit.
Ik ga niet snel een film afraden. Een mens moet zijn eigen mening vormen over een film. Maar ik kan je gerust vertellen dat je hier niet veel aan zal hebben.
Lezers score
Reacties