The Motorcycle Diaries (diarios de motocicleta) (2004)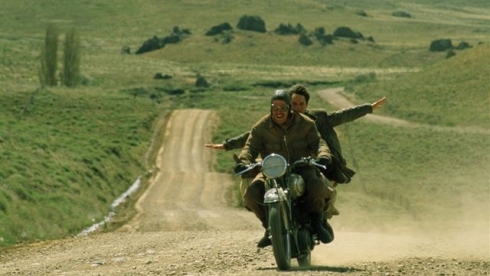 Ché Guevara hoeft geen inleiding meer. Zijn naam is wereldberoemd, zijn beeltenis is terug te vinden op talloze t-shirts en zijn revolutie is al ontelbare keren bestudeerd. De Braziliaanse filmmaker Walter Salles (bekend van veelgeprezen films als Central do Brasil en Abril Despedaçado) besloot dan ook zijn levensverhaal van een andere zijde te benaderen. Zijn recentste film the Motorcycle Diaries, één van de revelaties op het jongste filmfestival van Cannes, vertelt het verhaal van Ché als jongeman, voor hij één van de bekendste revolutionaire leiders van de twintigte eeuw werd. Ché Guevara's personage wordt in de film vertolkt door Gael García Bernal, die na films als Amores perros, Y tu mamá también en La mala educatión ongetwijfeld de titel van snelst rijzende ster in de Spaanssprekende cinema verdiend heeft. Wanneer Walter Salles en Gael García Bernal hun krachten bundelen, kan dat eigenlijk niet anders dan spectaculair vuurwerk geven. The Motorcycle Diaries overtreft echter zelfs de stoutste verwachtingen.
Buenos Aires, 1952. Ernesto 'Ché' Guevara, een 23-jarige student geneeskunde en Alberto Granado, een 29-jarige biochemicus besluiten om op een oude, aftandse motorfiets het Zuid-Amerikaanse continent rond te trekken voor ze zich definitief settelen en hun medische carrière beginnen uit te bouwen. Hun doel: Venezuela bereiken via de Andes, Chili en Peru op de dag dat Alberto 30 jaar zou worden. Aanvankelijk focust de film op de tocht van de twee mannen, hun dromen en hun relatie. Hoewel idealistisch van nature, staat de politiek en een sociaal bewustzijn nog ver van hun bed af. Wanneer hun motorfiets echter de geest geeft en de jonge avonturiers gedwongen zijn om hun tocht te voet verder te zetten verandert de film van toon en wordt het al snel duidelijk dat hun 8 maanden lange mars beide mannen voorgoed zal veranderen.
Anders dan verwacht van een film over één van de meest bekende revolutionairen uit de geschiedenis blijft Walter Salles ver van de politiek weg. Wat hij wel doet is ons de voedingsbodem voorschotelen waaruit de politike aspiraties van Ché Guevara zullen voortvloeien, door ons een fragmentarisch beeld te schetsen van de schrijnende omstandigheden waarin de Zuid-Amerikaanse bevolking leefde. In een bijna documentaire-achtige stijl maken we kennis met loonarbeiders die wegens hun communistische sympathieën gedwongen worden tot een leven in de mijnen, met Indiaanse boeren die door de landeigenaars van hun velden verdreven zijn, met een onderdrukte bevolking die zonder enige medische zorg moet vechten om te overleven. Het onrecht, de pijn en het lijden van de bevolking komt tot een apotheose in de melaatsenkolonie in de Peruviaanse Amazone waar Ernesto en Alberto uiteindelijk terechtkomen.
Gaandeweg zien we beide mannen veranderen en komt de kijker tot dezelfde conclusie als Ernesto Guevara zelf: iemand moet zich het lot van de bevolking aantrekken en hun levenssituatie verbeteren. Een scène waarin Ernesto naar de andere kant van de Amazone zwemt om zijn verjaardag met de melaatsen te vieren illustreert het feit dat hij zijn middle-class roots voorgoed achter zich laat en voortaan de kant van de lijdende bevolking kiest.
Walter Salles benadert de legendarische Ché Guevara op een eenvoudige, intieme en zeer menselijke manier. Zijn inspiratie haalde hij uit de autobiografie van Ché zelf en uit het boek dat Alberto Granado later over hun tocht zou schrijven.The Motorcycle Diaries is geen heldenepos, wel een simpele, eerlijke roadmovie. Juist daardoor verkrijgt de film zijn beoogde effect: de realistische manier van filmen maakt het onmogelijk om onberoerd te blijven voor het leed van de Zuid-Amerikaanse bevolking en om geen sympathie op te brengen voor de idealen van Ernesto Guevara. Salles weet op vakkundige wijze de revolutionair in elk van ons naar boven te brengen. En Gael García Bernal bewijst eens te meer een zeer getalenteerd acteur te zijn. Zijn vertolking van Ché is - net zoals de rest van de film - tot in de puntjes afgewerkt. Rodrigo De la Serna is als Alberto Granado perfect op hem ingespeeld.
Na Cidade de deus vorig jaar is The Motorcycle Diaries weer een filmisch meesterwerk dat ons vanuit Brazilië tegemoet komt. Het is nog tot begin september wachten eer de film in België in de zalen komt, maar geloof me vrij: dit is een film die u niet aan u wilt laten voorbijgaan!
Lezers score
Reacties