The Front (1976)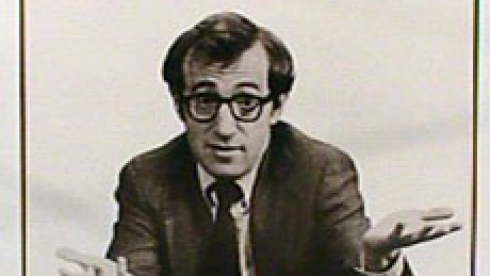 Laat de filmposter je niet misleiden: The Front is geen film van Woody Allen. Allen neemt enkel de hoofdrol voor zijn rekening in dit verhaal van Martin Ritt en Walter Bernstein over de donkerste bladzijde uit de geschiedenis van de Amerikaanse media. We schrijven de eerste helft van de jaren vijftig, de communistenjacht van senator McCarthy. Om het land en het publiek te beschermen, wordt er een blacklist opgesteld van alle film- en televisiemakers die wel eens rode sympathieën zouden kunnen hebben. Een schrijver of acteur die op deze lijst terechtkomt, raakt bij geen enkele studio nog aan de bak.
Woody Allen speelt barman Howard Prince, die door zijn vriend en televisieschrijver Alfred Miller (Michael Murphy) wordt uitgenodigd voor een wandeling en een spelletje schaak. Meer dan een sociaal uitje, zo blijkt, want Miller heeft iets belangrijks te vertellen: de autoriteiten hebben zijn naam op de zwarte lijst gezet. Als hij nog geld wil verdienen, heeft hij dringend een schuilnaam nodig, een frontman die in ruil voor een deel van de opbrengst zijn werk wil verkopen. Howard, die altijd wel wat gokschulden heeft af te betalen, hapt meteen toe.
Aanvankelijk kost het de schlemiel heel wat moeite om zich als een getalenteerd schrijver voor te doen, maar Prince leeft zich hoe langer hoe meer in in zijn nieuwe rol. Een belangrijke reden hiervoor is dat hij zo indruk kan maken op Florence Barrett (Andrea Marcovicci), de producer van een van zijn shows. Alles verloopt prima, tot Prince te veel hooi op zijn vork neemt: door alle aandacht die hij trekt, roept het House Un-American Activities Committee (HUAC) ook hem op voor een preventief verhoor.
Zoals alle films van en met Woody Allen is ook The Front op visueel vlak volledig onopvallend. Camerawerk en montage worden zo eenvoudig mogelijk gehouden en staan volledig ten dienste van het verhaal. Meer nog: je merkt als kijker meteen dat dit een Film Met Een Boodschap zal worden. Natuurlijk, er zijn altijd nog het komische gestuntel en de vrouwelijke love interest – verplichte kost wanneer je Woody Allen als hoofdpersonage cast –, maar het zijn niet deze elementen die deze film tot een klassieker maken. Nee, The Front is volledig geschreven door mensen die in de fifties zélf op de beruchte blacklist hebben gestaan. Het kost de regisseur, scenaristen en acteurs dan ook geen enkele moeite om de sfeer van die periode te vertalen naar het scherm.
Precies om deze reden is het hoofdpersonage niet de echte ster van de film. Écht schitteren doet vergane glorie Zero Mostel, die hier de rol speelt van de door de autoriteiten opgejaagde acteur Hecky Brown. Ook Mostel heeft het grootste deel van de jaren vijftig werkloos doorgebracht, maar The Front bezorgt hem toch enig eerherstel: de fantastische portrettering van een nerveuze Brown die helemaal aan de stress onderdoor gaat, leverde hem zelfs een Oscarnominatie op.
The Front is een film waar je voor of tegen bent. Tegenstanders noemen de humor van Allen veel te flauw en vinden dat de politieke boodschap van de makers er té dik bovenop ligt. Deze kritiek is zeker niet onterecht, maar weegt toch niet op tegen de historische waarde van de film. The Front is het openlijk verzet van een moegetergde ploeg, die na twintig jaar eindelijk kan protesteren tegen het onrecht dat het McCarthyisme hen heeft aangedaan. Als de makers daardoor een tikkeltje te moraliserend overkomen, is dat hun volste recht. Kijken dus, al wordt het misschien wat moeilijk om een exemplaar te pakken te krijgen: op een regio 2 versie van de dvd is het nog steeds wachten. Geen nood, speciaal voor wie The Front nergens meer kan vinden, heeft George Clooney drie jaar geleden Good Night and Good Luck gemaakt.
Lezers score
Reacties