Lucky Number Slevin (2006)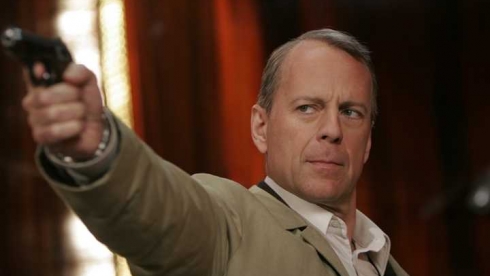 Paul McGuigan ken ik al van zijn eerdere Wicker Park, een eerder matige film waar ik zeker van genoten heb. Lucky Number Slevin lijkt hier qua thema en genre nogal haaks op te staan. Wat ik moest verwachten was me niet helemaal duidelijk, de meningen lijken nogal verdeeld. Er wordt alleszins wel met een noemenswaardige cast gewerkt en de trailer sprak mij best wel aan.
Slevin (Josh Hartnett) heeft een break nodig van zijn leven en gaat logeren bij zijn vriend Nick Fisher. Nick Fisher zelf is nergens te bespeuren, maar Slevin installeert zich al vast. Wanneer twee boodschappers van de maffiabaas The Boss (Morgan Freeman) aan de deur staan wordt Slevin aanzien als zijn vriend. Ze nemen hem mee naar The Boss waar hij, om een schuld af te lossen, de opdracht krijgt de zoon van de rivaliserende maffiabaas The Rabbi (Ben Kingsley) af te maken. Nick Fisher heeft echter ook een schuld bij The Rabbi staan waardoor Slevin later op de dag ook daar op het matje wordt geroepen. Het is meteen duidelijk dat de touwtjes in handen zijn van de huurmoordenaar Mr Goodkat (Bruce Willis), hij lijkt nog een rekening met Slevin te willen vereffenen.
Van in het begin wordt duidelijk gemaakt dat er meer aan de hand is, the Kansas Shuffle, je laat iemand rechts kijken en jij gaat naar links. Dit is precies wat de scenarist Jason Smilovic doet. Ondanks dat je dit weet blijft het een verrassende en verfrissende film. Je vangt heel wat hints open gaat in een bepaalde richting denken om dan te merken dat je er nog steeds niet op zit. Ben je wakker genoeg en zo iemand die de hele film door nadenkt over het plot zonder echt van de film te genieten zal je er wellicht uitkomen. Ik was alleszins aangenaam verrast toen de twist bovenkwam.
Lucky Number Slevin zit ook boordevol aangename dialogen. Akkoord dat ze alle personages een gelijkaardige stijl aanmeten, maar Smilovic heeft het onder de knie en komt er dan ook mee weg zonder dat het gaat storen. Tenzij je niet van een droge, sarcastische humor en een zekere koele gereserveerde toon houdt zal je zeker van de dialogen kunnen genieten.
Er wordt ook met een opmerkelijke cast gewerkt. Josh Hartnett springt er als tienermeisjesidool er ongetwijfeld het meest uit. Door enkele keuzes in het verleden heeft hij een bepaalde imago gekregen en wordt hij enigszins ondergewaardeerd. Nochtans kan Hartnett aangename en geloofwaardige prestaties brengen. In Lucky Number Slevin is hij zelfs bijna sexy. Over de andere acteurs kan ik kort zeggen dat ze ideaal gecast zijn, ik had het vooral voor Lucy Liu, het zeer sympathieke buurmeisje van Nick Fisher. Hartnett en Liu vormden een mooi koppel.
Het opvallendste aan de film is setdesign. Overal worden zeer leuke patronen gebruikt in het behangpapier. De overige inrichting is past er perfect bij. Heel de film was ik jaloers en wou ik dat ik eens in een dergelijke set kon werken. Ik kan begrijpen dat het nogal druk en kitscherig overkomt, maar wat voor de ene niet aan te zien is, is voor de andere echte oogsnoep. Ik vond het alvast heerlijk en zou alleen al daarvoor de film opnieuw bekijken.
Lucky Number Slevin is een zeer genietbare film. Ook al denk je dat je door hebt hoe het in mekaar zit zal hij je blijven verrassen.
Lezers score
Reacties