300 (2006)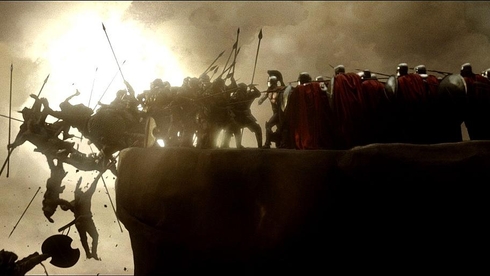 Ik zette mij neer voor een avondje actie en special effects, meer verwachtte ik niet van 300. Maar de filmmakers leken niet zeker te zijn welke kant ze wilden opgaan met de film. Proberen we toch een verhaal te vertellen, of houden we het enkel bij de vechtscènes? Gek genoeg lijken ze die twee aanpakken te combineren. Niet echt geslaagd.
Het verhaal kennen de meesten onder ons wel. Ik niet, ik ben niet zo'n geschiedenismens, laat staan dat ik iets weet over Griekse tragedies. De Perzische Koning Xerxes (hij zegt van zichzelf dat hij een god is) valt Griekenland binnen op zoek naar meer slaven. Dit is zo'n 480 jaar voor Christus. De dappere koning - en Spartaan - Leonidas wil zich niet zomaar gewonnen geven en verdedigt met 300 soldaten de enige doorgang naar het binnenland, de pas van Thermopylae. In hoeverre de film trouw is aan het echte verhaal laat ik in het midden. Deze filmversie is gebaseerd op de graphic novel van Michael Gordon.
De Spartanen zijn allemaal goed voorzien van spieren. Het zijn geboren vechters en strategen. Wat wel nodig is, willen ze met z'n 300 een leger van 1 miljoen man plus god verslaan. Dit levert heel wat actie en bloed op. En gebrul, en one-liners over moraal en vrijheid. Ledematen vliegen in het rond en koppen rollen. Alles wat we verwachten van een epische oorlogsfilm. De gevechtsscènes zitten overigens zeer knap in mekaar. De choreografie moet niet eenvoudig zijn geweest.
Ondanks al dit geweld ging de film voor mij soms nog traag vooruit. De slow motion toestanden kan ik nog vergeven, die horen bij de special effects waarvoor ik keek. Maar de verteller, nee, die deed dat niet goed. Het is niet dat ik niet geïnteresseerd was in wat er op het thuisfront gebeurde, maar dat mocht toch iets minder uitgerokken worden. Veel van deze scènes kunnen makkelijk een paar minuten korter zonder dat de boodschap verloren gaat. Trouwens, ik denk dat het verhaal perfect te vertellen is zonder die blik op het thuisfront. Maar dan wordt het Hollywood misschien iets te bloederig. Niet goed voor de kindertjes en de box office.
Ook de intro duurde mij te lang. Ik wou meteen in de actie gesmeten worden, in plaats van eerst een crash course te volgen over het leven van onze held. Het zou veel interessanter geweest zijn wanneer de makers een bepaald stukje uit zijn vorming hadden genomen en uitvergroot. De fragmentarische intro zorgt voor een moeilijke opwarming.
Nu goed, het moet gezegd worden: knap camerawerk en mooie digitale opkuis. Er zitten heel wat indrukwekkende beelden in 300. De regisseur blijft geregeld stilstaan bij bepaalde beelden, alsof hij zegt 'kijk naar dit kunstwerk, kijk naar wat ik met dat beeld gedaan heb'. Vaak ook terecht.
Je ziet, het is niet allemaal slecht met 300. Ook de muziek vond ik best in orde, en voor wie tussen de lijntjes leest zit er ook flink wat humor in. Het is alleen jammer dat het tempo zo vaak onderbroken wordt, dat de verteller niet genoeg ballen in zijn stem heeft om geloofwaardig over te komen en de acteurs enkel goed zijn voor wat ballet met speren. Ik was zelfs al vergeten dat er een mooi orakel in de film voorkomt.
Misschien heb ik de verkeerde film uitgekozen voor mijn avondje geweld, of heb ik de verkeerde avond uitgekozen voor 300?
Lezers score
Reacties