Michael Moore zal Slacker Uprising gratis aanbieden via internet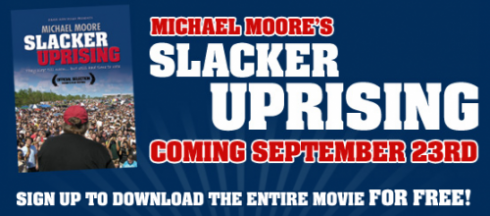 Michael Moore zal zijn nieuwste documentaire film Slacker Uprising gratis zal aanbieden via internet. De film wordt op 23 september gereleased en kan 3 weken lang gratis worden gedownload, daarna zal de film verkrijgbaar zijn op DVD. Natuurlijk is de download beperkt tot Noord-Amerika, voor ons Belgen zullen er wel andere methoden opduiken.
De documentaire volgt Michael Moore op een 62 steden tour voor de verkiezingen van 2004. Tijdens de tour is Moore langs gegaan bij verschillende universiteiten om de nieuwe generatie slacker uit hun zetel te halen en naar het stembureau te lokken. In ruil voor hun stem kregen ze een pakje noodles en een proper onderbroek.
"This is being done entirely as a gift to my fans. The only return any of us are hoping for is the largest turnout of young voters ever at the polls in November." – Michael Moore
Hij waarschuwt wel dat er heel veel van zichzelf in de film zit. Fans zullen er heel blij mee zijn, maar als je geen fan bent zal het erg op de zenuwen werken.
Ik ben benieuwd wat het resultaat zal zijn. In 2004 is Michael Moore er ook niet in geslaagd om met Farnheit 9/11 komaf te maken met Bush. Zijn films is altijd een beetje preken voor eigen parochie. Met de film gratis aan te bieden hoeven tegenstanders geen geld uit te geven aan Moore. Of geen gezichtsverlies te lijden als ze gespot worden in de cinema.
Wil je toch een poging doen om de film te downloaden bij release dan kan je inschrijven via slackeruprising.com.
Reacties