Wilkinson American Movie Day, July 4 in a theatre near you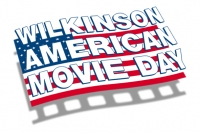 Waarom wij in ons land de Amerikaanse 4th of July moeten vieren is me niet helemaal duidelijk, maar het levert wel een dagje leuke cinema op.
Op 3 en 4 juli vindt ondertussen de twaalfde editie van Wilkinson American Movie Day plaats. Het startschot wordt gegeven in Brussel met enkele gratis optredens - waaronder Kim Wilde - met vervolgens om middernacht de eerste voorstellingen in de Brusselse UGC De Brouckère. De dag er op kan je in vijf Belgische zalen 13 avant-premièrese bewonderen.
Uiteraard gaat het hier om Amerikaanse blockbusters, of wat dacht u. Eigenlijk zijn het 12 avan-premières en Coca-Cola die met een vervolg op hun Happiness Factory. Happiness Factory, The Movie is een kortfilm die voor elke voorstelling zal getoond worden. Naast Happiness Factory, The Movie kan je volgende films die dag in première zien: 
Awake
Feel the Noise
Get Smart
Hancock
Leatherheads
Mamma Mia!
Mama's Boy
My mom's new Boyfriend
The Forbidden Kingdom
The Strangers
Wall•E
Wantend
Deelnemende cinema's zijn UGC Brussel, Kinepolis Gent, Metropolis Antwerpen, Imagix Bergen en sinds dit jaar ook Kinepolis Luik. De films vangen aan op de gebruikelijke tijdstippen 11.00u, 14.30u, 17u, 20u en 22.30u.
Wil je er graag bij zijn op de opening dan kan je best aanwezig zijn op donderdag 3 juli op het De Brouckère plein in Brussel. De concerten starten om 22u daarna heb je eerste keus uit één van de premières.
Meer info op de website zelf: wamd.be
Reacties