The magnificent three: Kathleen Turner, Michael Douglas en Danny DeVito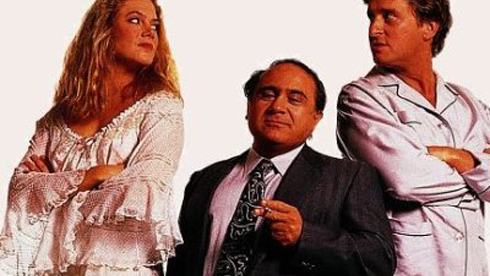 In het kader 'oude koeien uit de sloot halen', besloten we ons licht eens te laten schijnen op enkele onvergetelijke samenwerkingen uit de filmgeschiedenis. Kate en Leo, Soderbergh en Clooney, Burton en Depp, wat zouden wij, filmgeeks, zonder hen zijn?
Kathleen Turner, Michael Douglas en Danny DeVito
Eerste duo is er eentje uit de wilde 80's; naast neonkleuren, ontploft haar en schoudervullingen ook het decennium van ons eerste sterrentrio. Kathleen Turner, Michael Douglas en Danny DeVito fleurden in de eighties maar liefst drie keer de box office op met kaskrakers om U tegen te zeggen.
Romancing the Stone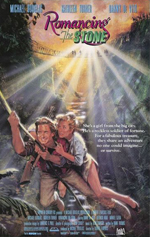 Eerste wapenfeit van het olijke trio was Romancing the Stone, één van de enige navolgers (of na-apers?) van Raiders of the Lost Ark die echt doorbrak. Met Michael Douglas als producer was ook meteen de mannelijke lead bezet, op zich al een risico aangezien Douglas tot die tijd enkel televisiewerk had gedaan. Ook de andere rolbezettingen waren een grote gok: DeVito had, net als Douglas, zijn succes al bewezen op het kleine scherm, maar of hij dat ook kon vertalen naar het witte doek bleef de vraag. Kathleen Turner brak enkele jaren eerder door met Body Heat, een stomende thriller waarin ze de sexy en manipulatieve Mattie Walker vertolkte, de tegenpool van haar personage in Romancing the Stone. Toch zou het Turner's typerende, sluimerende seksualiteit zijn die het personage van Joan Wilder zo populair maakte.
Het verhaal
De dag dat Joan Wilder (Kathleen Turner), een dromerige romanschrijfster, een pakket ontvangt van haar schoonbroer, verandert haar hele leven. Ze krijgt telefoon van haar ontvoerde zus die haar smeekt de inhoud van het pakje, een kaart, naar Colombia te brengen in ruil voor haar vrijlating. Na een hectische reis naar Zuid-Amerika blijken de ontvoerders niet de enigen te zijn die op de kaart azen. Joan belandt alleen in het midden van de jungle waar ze opgepikt wordt door Jack T. Colton (Michael Douglas), een vechtersbaas die meer ziet in Joan's bankrekening dan in haar reddeloze situatie. Wanneer ze uiteindelijk het pad naar de bewoonde wereld terugvinden, stuiten ze niet alleen op een klunzige gangster (Danny DeVito), maar ook op de schat die op de kaart wordt aangeduid.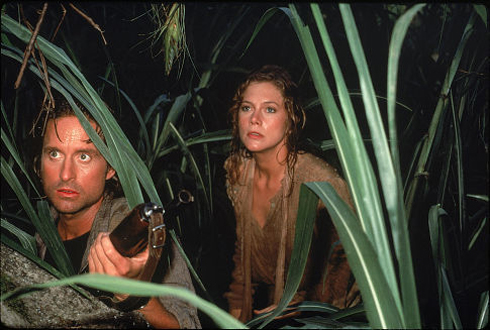 Romancing the Stone was een enorm kassucces en lanceerde bovendien de carrières van zowel de hoofdrolspelers als van de regisseur, Robert Zemeckis. Die bracht ons later nog pareltjes als Back to the Future en Forest Gump en leunt qua storytelling vrij dicht aan bij Spielberg. Volgens de laatste geruchten zit er trouwens een remake aan te komen van de film. Benieuwd wie de schoentjes van DeVito zal moeten vullen.
The Jewel of the Nile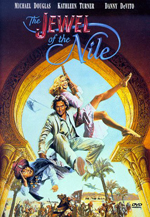 Dat avonturenfilms het altijd goed doen aan de box office is een feit. Sinds de uitvinding van Technicolor worden we belaagd door piratenschepen, gaan we op schattenjacht of belanden we op verlaten eilanden dat het een lieve lust is. Toch is er voor succes aan de kassa meer nodig dan een spannende verhaallijn en enkele knallende kannonnen. Wat zou Pirates of the Carribbean immers zijn zonder de geschifte Captain Jack? De belangrijkste vraag blijft voor regisseurs dan ook: met wie willen we op schattenjacht en als je dan per se op een verlaten eiland moet stranden, met wie wil je dan je kokosnoten delen? Romancing the Stone was een schot in de roos en de chemie tussen de Turner, Douglas en DeVito zorgde al snel voor een sequel.
Het verhaal
Na samen de wereld rond gereisd te hebben, wonen Joan Wilder en Jack Colton samen op hun zeiljacht. Wanneer Joan op een boekenbijeenkomst Omar ontmoet, de leider van Kadir, een kleine staat in het Midden Oosten, krijgt ze de kans om een artikel over hem te schrijven dat hem moet introduceren als de redder van zijn volk. Een fikse writer's block en een stevige ruzie met Jack doen haar beslissen om op zijn voorstel in te gaan. Als Jack na haar vertrek echter te horen krijgt dat Omar's intenties niet zo zuiver zijn, besluit hij Joan achterna te reizen om niet alleen haar maar ook 'The Jewel of the Nile', een belangrijke Arabische schat te redden. Met Ralph (Danny DeVito), de op wraak beluste crimineel uit Colombia, in zijn kielzog, sluit hij zich aan bij een Arabische karavaan.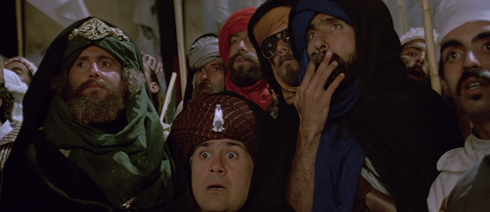 Hoewel de film bijna evenveel opbracht als zijn voorganger, werd hij heel wat minder goed onthaald door de critici. De gaten in het verhaal en de minder originele situaties eisten hun tol, waardoor het derde luik van wat oorspronkelijk als trilogie bedoeld was, werd afgeblazen. Wie genoeg heeft aan luchtig entertainment met een fikse dosis humor en romantiek, zal zich echter minder bekocht voelen met deze gouwe ouwe dan met een modern vehikel als Fool's Gold.
The War of the Roses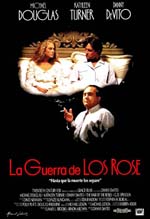 Derde samenwerking tussen Turner, Douglas en DeVito was deze verrassende zwarte komedie. Wie hoopte op alweer een avontuurlijk en dolkomisch verhaal, was er meteen aan voor de moeite want bijtend sarcasme en roetzwarte humor kondigden het eind van de jaren '80 aan.
Het verhaal
De film begint wanneer advocaat Gavin D'Amato besluit om één van zijn cliënten het verhaal van de Roses te vertellen. Dit welgestelde koppel zette na jaren een punt achter hun huwelijk, wat resulteerde in een bittere vechtscheiding met onverwachte gevolgen.
De film was een gigantisch kassucces tegen alle verwachtingen in en werd ook door critici zeer goed ontvangen. Wie houdt van galgenhumor, zal zich zeker een kriek lachen met deze film die het vooral moet hebben van zijn gevatte dialogen en snelle samenspel. Bovendien zijn heel wat situaties herkenbaar voor elk koppel dat al een tijdje samen is. Noem het gerust de light versie van Who's afraid of Virginia Woolf of Cat on a Hot Tin Roof.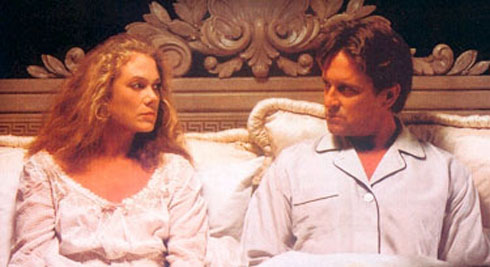 What's up?
Na de jaren '80 scheidden de wegen van Turner, Douglas en DeVito en ook apart zien we hen  niet veel meer op het witte doek. Michael Douglas deed het in de jaren '90 nog heel goed met onder andere Disclosure en The Game maar staat nu toch vooral in de schaduw van zijn bekende vrouw, Catherine Zeta-Jones.
Danny DeVito zien we nog steeds opduiken in karakteristieke bijrolletjes. Denk maar aan de kleine stripper in Friends of de circusdirecteur in Big Fish. Hoofdrollen waren nooit echt voor hem weggelegd maar zolang kleine Italiaantjes deel uitmaken van de showbizz, komt DeVito wel aan de bak.
Kathleen Turner maakte zichzelf onsterfelijk als de stem van Jessica Rabbit, de vrouw van tekenfilmfiguur Roger Rabbit maar speelt ook nog steeds hier en daar een bijrol. Of wat dacht je van de moeder uit The Virgin Suicides of Chandler's vader in Friends.
Reacties