Fox stuurt 'The Day the Earth Stood Still' de ruimte in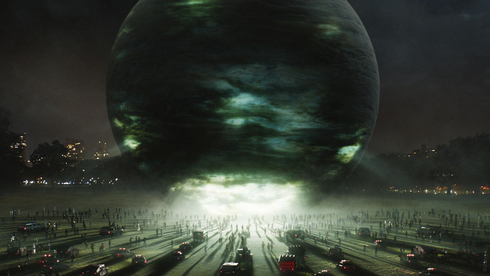 Twentieth Century Fox heeft besloten om The Day the Earth Stood Still de ruimte in te zenden. Een primeur gezien het de eerste keer is dat een film onze alien gebroeders tegemoet zal gaan.
De uitzending begint komende vrijdag, gelijk met de release van de film in Amerika. Levende wezens in het Alpha Centauri zonnestelsel zullen de film dan over een viertal jaar ontvangen in 2012. Er van uitgaande dat ze de juiste technologie hebben om de signalen te ontvangen en ontcijferen.
De mensen van Twentieth Century Fox schrijven nog lachend in hun persbericht dat het een extra vier jaar zal duren eer we de eerste besprekingen van onze galactische buren zullen ontvangen.
Ik begrijp het nut er helemaal niet van, maar ik vind het wel een enorm coole gedacht, om één of andere reden. Of The Day the Earth Stood Still de juist film is om de ruimte in te sturen laat ik even in het midden.
De reacties op Comingsoon, vanwaar ik bericht heb, zijn wel grappig:
They want to make first contact with a movie about aliens and humans killing each other? I hope to god this movie has a peaceful resolution. At least they aren't sending out "Independence Day."
En deze:
Ah yes, nothing says "Earth has Intelligent Life" better than two hours of Keanu Reeves dead panning to the camera. 
Zouden de film met ondetitels verzonden worden? Laat het aan een Amerikaan om te denken dat de rest van het universum ook Engels spreekt. Misschien interpreteren ze de muziek als de hoofdtaal, of denken ze dat zowel de gesproken taal als de muziek een geheel vormen?
Wat als het dove wezens zijn, wezens die communiceren met telepatisch krachten. Of blinde wezens, dan hebben ze er ook niet veel aan.
Hoe het afloopt zullen we ten vroegste over vier jaar merken, of langer. Hopelijk beledigen we niemand met de boodschap van de film. Was het niet, volgens de kalender van de Maya's, in 2012 dat de wereld zou vergaan?
The Day the Earth Stood Still is sinds vandaag in onze zalen te zien. Geniet er van.
Reacties