10,000 BC (2008)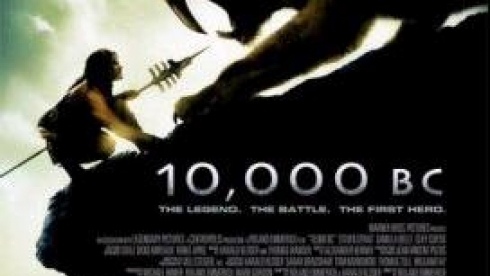 Je bent een ongelooflijke computer generated imagery fan of je hebt gewoon teveel gratis cinematickets die je nog steeds niet hebt opgebruikt en de vervaldatum komt dichterbij... Dit zijn zo wat de enige redenen waarom je zou wegzakken in een cinemazaal waarin deze film wordt geprojecteerd.
'From the director of The Day after Tomorrow and Independence Day' voorspelt behalve veel special effects weinig goeds. Dat is dan ook wat je krijgt. De sfx zijn knap, de sabeltandtijgers, mammoeten, prehistorisch-dinosaurusachtige vogels mogen er zeker zijn. Maar toen was het budget op.
Verwacht je vooral niet aan een geschiedenisles. Alle culturen, volkeren, stammen,... die je gedurende 6 jaar schooltijd achter een bureau'tje hebt geblokt, passeren de revue en dat allemaal 10,000 BC. De film staat bol van anachronismen. Je stapt een mythe binnen die zijn inspiratie her en der heeft vergaard.
Deze mythe vertrekt van een zeer klassiek verhaal... boy meets girl, boy falls in love with girl, boy gets girl. D'Leh (onze Duitse regisseur heeft duidelijk nagedacht over de naam van het hoofdpersonage, lees deze maar eens op z'n Sammy Tanghe's) leert op jonge leeftijd Evolet kennen. Ze is de enige overblijvende van een stam die uitgeroeid is door boze viervoeters. Het orakel van het dorp, Old Mother, voorspelt hetzelfde lot voor de Yaguhl, de stam waarover D'Leh op latere leeftijd het leiderschap zal opnemen. En zo geschiedde... Na een mooi in beeld gebrachte mammoetenjacht, razen de boze viervoeters (paarden) en diens krijgsheren door het dorp en ontvoeren de halve bevolking, waaronder ook Evolet.
D'Leh is vastbesloten Evolet achterna te reizen en haar te bevrijden. Samen met voormalig stamleider Tic tic trekt hij op pad. Zijn pad wordt gekruist door stammen die hetzelfde lot beschoren zijn. D'Leh zet een legertje op touw van andere stamhoofden en krijgers om de gevangenen te bevrijden. Gelukkig waren er 10 000 jaar voor Christus maar twee talen, Engels en één of andere oertaal. Toevallig is er dan net ook één iemand die beide talen verstaat en dus fungeert als tolk.
Als er nog een greintje geloofwaardigheid in de film overblijft, smelt het op dit punt van de film als sneeuw voor de zon. D'Leh bevrijdt, zoals het een goede held betaamt, z'n volk en z'n Evolet. Hierbij brengt hij ook een hele beschaving en cultus rondom een duistere goddelijke leider ten val en dat allemaal door een getemde mammoet op hol te doen slaan.
Een bijster origineel en geloofwaardig verhaal weet de film dus niet te vertellen, maar hij neemt je wel mee doorheen de mooie landschappen van Namibië, Zuid-Afrika en Nieuw Zeeland (misschien dacht je deze wel te herkennen uit Lord of the Rings of zat er ergens nog een ork in het struikgewas). Waarvoor deze film dan toch nog één ster verdient.
Kort samengevat: een typisch Amerikaanse blockbuster die we zouden bekijken in tijden dat we de jeugdpuistjes niet meer op één hand konden tellen.
Lezers score
Reacties