Slacker Uprising (2008)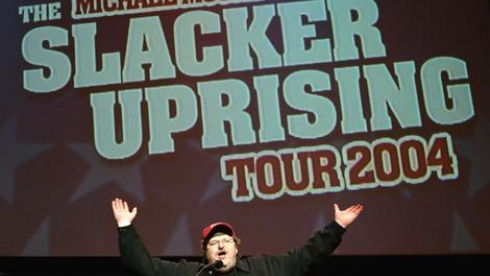 De Verenigde Staten zitten, naast diep in de financiële shit, ook in volle verkiezingsstrijd. Dat klinkt als een moment voor Michael Moore om nog eens van zich te laten horen. En ja hoor: deze week gooide de All American Hero zijn nieuwe documentaire Slacker Uprising online, gratis te downloaden voor al wie in de V.S. of Canada woont. Helaas bestaan er op het internet geen grenzen meer, zodat het nog geen half uur duurde voor ook ik de film in mijn bezit had. Eens kijken of hij deze publiciteitsstunt wel waard is.
Laten we voor we beginnen één ding afspreken: een argument dat tegenstanders van Moore nooit meer mogen gebruiken, is dat de regisseur een duidelijke politieke boodschap heeft en je zijn films dus allesbehalve 'objectief' kan noemen. Een documentaire mag gerust een opiniestuk zijn, zolang de maker maar duidelijk vermeldt dat dat zijn bedoeling is. En als je Moore iets niet kan verwijten, is het wel een teveel aan subtiliteit. Meer daarover kan u lezen in mijn eerdere publicatie "In theorie zijn er ook goede dagen" uit 2006.
Argumenten die wel nog overeind blijven, zijn die dat Moore graag de aandacht opzoekt, dat hij zichzelf een popster waant en dat hij overdreven vaak de emotionele kaart trekt. Kijkers die zich daaraan ergeren, zullen deze documentaire welgeteld drie minuten uithouden: Slacker Uprising is een film van Moore, over Moore. Nu ja, ondertussen hebben ze dan tenminste toch een fantastische intro gezien, waarin een sterke montage toont hoe John Kerry in 2004 zijn comfortabele voorsprong in de peilingen op een schandalig domme manier heeft weggegooid.
Omdat de Democratische kandidaat er zo'n zootje van begon te maken, is ook Moore zich toen gaan mengen in de campagne. Hij organiseerde een tournee door alle nog onbesliste staten, waar hij samen met muzikanten, komieken en oorlogsveteranen ging spreken voor volle zalen. Zijn publiek bestond voornamelijk uit studenten, jongeren die te lui zijn om te gaan stemmen. Te lui, of te cynisch om te denken dat hun stem iets uithaalt. Een groep die het verschil kon maken tussen vier of acht jaar George W. Bush.
Uiteindelijk is het toch acht jaar geworden, maar door een verslag van deze bijeenkomsten gratis te verspreiden wil Moore nu een nóg groter publiek bereiken en ervoor zorgen dat nóg meer jongeren de Republikeinen in november wél weg kunnen stemmen. Een succesfilm maken door beelden uit een paar lezingen achter elkaar te plakken? Het is Al Gore gelukt met An Inconvenient Truth, dus waarom niet? Dit betekent dat Slacker Uprising een heel atypische Michael Moore is, waarin de grapjes, de prachtige collages en de zoektocht naar de waarheid achterwege worden gelaten en we Moore enkel te zien krijgen als de indrukwekkende podiumspreker die hij uiteindelijk ook wel is. John McCain kan er alvast een en ander van leren.
Moores verslag levert een paar leuke momenten op. Zo brengt Eddie Vedder een prachtige cover van Cat Stevens' Don't be shy, zien we hoe hallucinant ver de Republikeinse partij is gegaan om de bijeenkomsten te laten verbieden en weet Moore de tegenstanders die af en toe in de zalen opduiken netjes op hun plaats te zetten. "What would Jesus bomb?", indeed. Het jammere is dat de film zich zo lang aan hetzelfde tempo blijft voortslepen. De verzamelde momenten hebben Moore ongetwijfeld stuk voor stuk diep geraakt, maar net daardoor heeft hij geen kritische selectie kunnen maken. Had hij er flink de schaar in gezet en het verhaal ingekort van anderhalf uur tot drie kwartier, er  zou een ijzersterk pamflet overgebleven zijn.
Dit is nu helaas niet het geval, zodat er pas weer wat te beleven valt wanneer we aankomen bij de cruciale drie laatste staten, nauwelijks honderd uur voor het sluiten van de stemkantoren. Moore brengt een emotionele ode aan het stemrecht. Ook al verliezen de Democraten de verkiezingen, toch heeft een recordaantal jongeren op Kerry gestemd. Hun ouders kozen voor Bush. Vier november komt elke dag een beetje dichterbij.
Lezers score
Reacties